Down by the Depot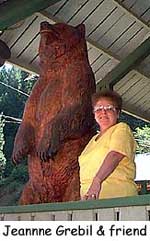 WALLACE, IDAHO—
Jeanne and Don Grebil own one of the more unusual RV parks we've stayed in. Located on the banks of a creek in the historic mining town of Wallace, Idaho, their property has a colorful history. Originally built as a fruit and produce warehouse in 1912, the main building was used to store beer and wine in the 1950s. Perched right over the creek, the interior was always cool in the summer, and the thick walls kept the contents from freezing in the winter. Now, after the Grebils' extensive remodeling project, the building houses an office, bathhouse, three apartments, and the Up the Creek Saloon. It's a popular gathering place for townspeople and visitors alike.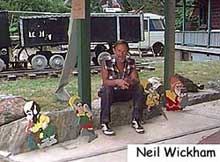 Neil Wickham, pictured at the left, lives on the hillside above the Grebils' park. He works for them and also has a growing business making garden gnomes. "They're getting pretty popular," he told us. "The other day a lady ordered seven of them, and I just this minute sold my most popular design, a gnome riding on a millipede." Since he lets them go for the bargain price of about US$7.50 apiece, it's no wonder Neil has to work hard to keep up with demand.
We've been staying at the Grebils' park for three days now, and rarely have we felt more welcome. It's easy to understand why so many people return year after year to enjoy the warm hospitality they find Down by the Depot. We'll be back someday, too.
8/96
Down by the Depot RV Park
Jeanne & Don Grebil
108 Nine Mile Road
Wallace, Idaho (208) 753-7121
8/96