The Phoenix One Journals Stories from the dawn of RoadTrip America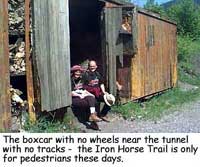 We began our week with a tour of the Willow Lake Wastewater Treatment Plant in Salem, Oregon, then headed north. The Grand Central Baking Company in Portland, Oregon, was our next stop. We learned what makes "rustic" bread special and then happily consumed the teaching tool.
Continuing our northward route up Interstate 5 into Washington, we paused at the Mount Saint Helens Visitor Center at Silver Lake. Movies and exhibits let us experience vicariously those incredible hours in 1980 when the mountain blew 1,300 feet of rock off her north side.
In Seattle, we joined Charlie Brister of Bothell, Washington, for a hike through the Snoqualmie Tunnel. Once part of a route through the Cascades for electric trains, the 2.3-mile tunnel is the spookiest section of the Iron Horse Trail. Flashlights are a must, even at high noon!
Seattle may be famous for coffee, but it's juice that provides a buzz at the Gravity Bar. The decor of this unique restaurant is eclipsed only by the menu. How can you resist a "Bathing Rama," especially when you can wash it down with a "Mr. Rogers on Amino Acid?"
A large and baffling GIZMO brought us to a halt in southern Oregon earlier this week. Check it out! Maybe you'll know what it is at a glance!
We'll be exploring Seattle for the next few days. Join us for a visit to the Boeing Surplus Store, a tour of a juggling toy factory, and a look at an amphibious car! Meet members of the Total Experience Gospel Choir, and find out why a tow truck is a Seattle landmark!