Speed Runs: Web Resources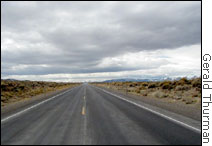 Good place to "hammer down:" US Highway 50 near Ely, Nevada
"Taking a road trip on speed is just stupid, but taking a speed road trip is a serious undertaking. It requires of the undertaker abnormally high levels of stamina, energy, street smarts, faith, and luck."
—Elijah Nouvelage,
college student & speed demon

Long distance, "get-outta-Dodge" journeys aren't for everyone, but they hold undeniable appeal for a certain subset (you know who you are!) of roadtrippers. Here are just a few of the more interesting high-velocity odysseys we've run across recently.
Car Rallyes: Explanations of the various kinds of rallies and links to national events (3/6/05)
Flat Out on a Public Highway! And it's legal! Three road races run on public highways in Nevada. 2005 events are May 12 -15, September 13-18, and Septemver 22-25. (2/6/05)
The Border Challenge: Eight days of pedal-to-the-metal open-road racing starting in Brownsville, Texas, and finishing 2,500 miles away in Ensenada, Mexico. The 2005 event is April 22-29. (2/6/05)
Alcan 5000 Rally: This is an annual nine-day, time/speed/distance endurance event that starts in the Seattle area, heads north into British Columbia, zig-zags into Alaska a couple of times, swings out to Yellowknife in the Northwest Territories and finishes up in Jasper, Alberta.
Gumball 3000 Rally: Those goofy Burt Reynolds films of the 1970s, "Gumball Rally" and "Cannonball Run," were inspired by a real but illegal road race known as the "Cannonball Baker Sea-to-Shining Sea Trophy Dash." In its heyday, daring hotrodders sped from Times Square, New York, to Long Beach, California. In 1999, entrepreneur Maximillion Cooper launched the current version of the Gumball, which features a 3,000-mile, six-day road "rally" which has been held in Europe as well as the United States. Gumball 3000 takes place on public roads, where racers rack up speeding tickets (and worse) all day and then spend the night partying at predetermined watering holes along the route. The last United States event occurred in April, 2003, beginning in San Francisco and ending in Miami. For interesting commentary from one of the participants check out Steve Dunker's Web site.