The Phoenix One Journals Stories from the dawn of RoadTrip America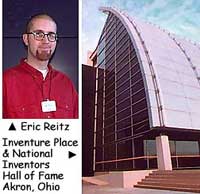 We kicked off our week's ramblings with a malted milk in the historic surroundings of Zaharako's Ice Cream Parlor in Columbus, Indiana. Then we headed into Ohio, where we spent a memorable evening with Ed, Nancy, Lindsey & Merrick Hutchinson on the farm their family has owned since the Revolutionary War.
Our next stop in Ohio was Columbus, where we visited Larry, Judy, Kathleen & Alexandra McElwee in Worthington, and enjoyed an evening in German Town at Schmidt's, a restaurant that's been serving up bratwurst and beer for over a century.
In Westerville, Ohio, we spotted a curious sign, and in the countryside near Nashville, we stopped to marvel at a large GIZMO still under construction.
In Uniontown, we visited with Joan & David Shaner and Bob & Marjorie Miller, whom we'd met a year ago in Key Largo, Florida. They took us to Inventure Place in Akron, an educational center dedicated to promoting creativity. A sign inside announces "This is a place to mess around," and the whole place is packed with interactive exhibits that appeal to anyone with an ounce of curiosity. Inventure Place is also the home of the National Inventors Hall of Fame, which inducts new members every year. Eric Reitz, who works in guest relations, told us that anyone can nominate an inventor by submitting an official application. Just write to: National Inventors' Hall of Fame Foundation, Inc., P.O. Box 1553, Akron, Ohio 44309-1553.
In Quaker Square, the original home of the Quaker Oats Company, we visited the only luxury hotel in the world that was once 36 grain silos.
We're headed into Pennsylvania now. The leaves have a hint of red in them, and temperatures are dropping into the 40s (Fahrenheit) at night. Fall is definitely in the air!