Restaurants of the Road
More Eateries

Zaharako's Ice Cream Parlor
Columbus, Indiana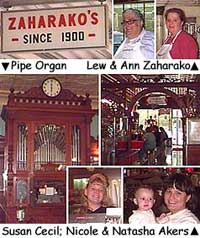 Columbus, Indiana, the Athens of the Prairie, is famous all over the world for its architecture. It has another claim to fame, however. Zaharako's Ice Cream Parlor has been serving up sundaes and smiles for nearly a century.
Lew and Anastasia Zaharako, the third-generation owners of Columbus' favorite sweet shop and lunch counter, were on hand to greet us at their antique onyx soda fountain, which was purchased in 1905 from the St. Louis Exposition & World's Fair.
Lew put a roll on the Welte pipe organ, which was imported in 1908 from Germany. Trumpets, a saxophone, clarinets, a snare drum, a bass drum, cymbals, flutes, a triangle and 185 pipes played ebulliently for five minutes, a complete orchestra operated by vacuum and air pressure supplied by bellows.
Susan Cecil whipped up a malted milk and a hot fudge sundae for us, and we perused the lunch menu while we enjoyed them. "Our Cheese-br-gr is a candidate for the funky hall of fame," said Lew. "It's grilled cheese with meat sauce, not a hamburger." We'll have to try one next time we're in town. The homemade chili and the Braunschweiger sandwich also sounded good. "So does a three dip banana split," said Mark. "This is definitely a place to come back to."
While we were enjoying our ice cream treats, we met Nicole Akers, who was visiting Zaharako's with her mother Natasha and grandfather Larry Wayman. "We live in California now," said Natasha, "but I can't come back to Columbus without visiting Zaharako's."
We'll be back, too. The pipe organ play 59 tunes we haven't heard yet, and we've got to try one of those Cheese-br-grs!
Zaharako's
329 Washington Street
Columbus, Indiana 47201
(812) 379-9329 9/96