The Hotel That Oats Built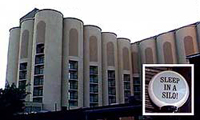 It wasn't the whim of an architect that made the Quaker Square Inn in Akron, Ohio, look like grain silos. It really used to be a cluster of 36 silos, part of the complex of mills, train depot, and railyard built in the late nineteenth century by the Quaker Oats Company.
Creating guest rooms in the circular towers required sawing through six-inch concrete to form the balconies, windows and doors. Many other creative engineering solutions were required to translate the silo complex into a luxury hotel, and the entire process took over seven years. The resulting guest rooms are, not surprisingly, round.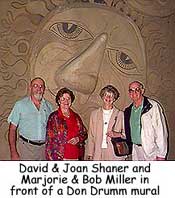 Reliefs and murals created by Akron artist Don Drumm decorate the hotel's common areas. The one pictured here features celestial bodies. Others incorporate components of machinery and trains from Quaker Oats days.
In addition to the unique hotel, Quaker Square has restaurants and shops. We dined with our friends, David & Joan Shaner and Marjorie & Bob Miller, at the Depot Restaurant, which is surrounded by real railroad cars and locomotives.
Quaker Square Inn
135 S. Broadway
Akron, Ohio 44308
(330) 253-5970