Restaurants of the Road
More Eateries

Schmidt's
Columbus, Ohio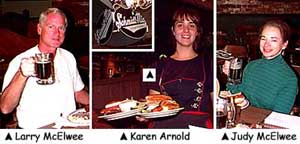 German Village in Columbus, Ohio, has been a feature of the city's landscape since the early 1800's. Schmidt's has been on the scene nearly that long, serving up beer and bratwurst since 1886.
We never would have found Schmidt's without the help of our friends Larry & Judy McElwee. Larry, who is a classics scholar and professor at Ohio State University, owns Globe Tours, a travel company that offers wonderful trips to Greece, Turkey, and Egypt. There's nothing like getting a home-town tour from a travel pro! Dinner at Schmidt's capped off a terrific evening of discovery in Columbus.
You can't enjoy German food without a little German beer to wash it down. Karen Arnold brough us a taste of the two house brews. We all agreed on the dark version, which turned out to be a good accompaniment to our food. Larry had sauerbraten with spaetzle, Mark and Judy tried "Bahama Mama" sandwiches, and I had a bratwurst. The "Bahama Mamas" looked as German as the bratwurst, and no one seemed to know how they got a Caribbean name.
Schmidt's has music several nights a week, "and the band wears lederhosen," said Larry. We'll have to go back for the oom-pah experience!
Schmidt's
240 E. Kossuth Street
Columbus, Ohio
(614) 444-6808
dining, carry-out, & catering