The Phoenix One Journals Stories from the dawn of RoadTrip America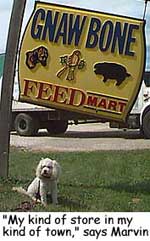 After our friend Bill Warr told us about the Time Museum, we drove straight to Rockford, Illinois, to visit it. It's well worth a journey to see the history of chronometry illustrated with everything from an ancient Chinese waterclock to a hydrogen maser.
Heading into Indiana, we stopped overnight at Bob & Toni Billetz' Jellystone Campground near Peru. Jellystone is known far and wide for being a terrific place to play disc golf.
The instant communication power of the Internet brought us into contact with Professor Tom Marvin of Indiana University/Purdue University at Indianapolis. His American Studies class focuses on travel literature this semester, and we were honored to be guest speakers.
We discovered a treasure trove of Americana at Hook's American Drug Store Museum on the Indiana State Fairgrounds. Needless to say, we discovered a terrific GIZMO, too!
A drive-by tour of Indianapolis culminated in a pilgrimage to the Indianapolis Motor Speedway, and then, on the advice of Professor Marvin and his student John Aguirre, we left town on the road to Bloomington to take Highway 46 through Indiana's picturesque hill country. Moseying through Yellowwood State Forest and the village of Nashville, we paused appropriately in Gnaw Bone to buy Marvin some food at the local feed store.
Columbus, Indiana, is our next stop, and then the Buckeye State beckons!