It's About Time
7/9/2002—Great news about the Time Museum: The Time Museum's collection, formerly located, as described below, in Rockford, Illinois, is now on display at the Chicago Museum of Science and Industry. The museum does not have the entire collection, but it does have a good portion of it which will remain on view through 2004. For more info, click here to visit the museum online.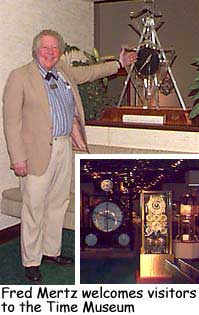 ROCKFORD, ILLINOIS—
Our friend Bill Warr told us about the Time Museum when we visited him in Lombard, Illinois. "It seems to be a well-kept secret," he said, "But it's a Smithsonian-quality collection, and it's fascinating." We headed west out of Chicago to Rockford just to see it.
The Time Museum is located inside the Clock Tower Resort & Convention Center, a well-known landmark at the junction of Interstate 90 and Business US 20. Even though we knew it was there, it took us a while to find the museum inside the complex, which also houses a theater, three swimming pools, meeting and banquet rooms, a health club, stores and three restaurants. The search through the labyrinth, however, was well worth it.
Fred Mertz greeted us. He told us how Seth G. Atwood, owner of the Clock Tower Resort, founded the Time Museum in 1970 to illustrate the most important technical developments in the history of time-keeping. (We also learned that Fred is pursuing his doctorate at the University of California, Berkeley, via the Internet!) We then sank into an incredibly comfortable brocade sofa in a lushly carpeted theater to watch a video about the history of chronometry. Among many other time-related facts, we learned what makes a clock tick. It's the escapement device invented in the 14th century, when the first mechanical clocks came into use.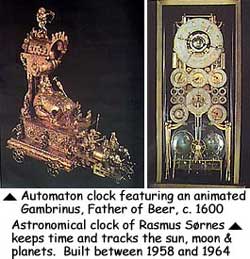 After watching the video, we began our tour of the museum, where escapement devices of all sizes and design provided a pleasant background. The pressure of our feet activated lights as we approached each display case, and every few minutes, chimes rang, a cuckoo chirped, a gong sounded. Within an hour, we had progressed through time from an ancient Chinese water clock to an atomic hydrogen maser that errs no more than one second every thirty thousand years. We'd seen astrolabes, nocturnals, elaborate astronomical clocks, ornate French time pieces, the first mass-produced American clocks, clocks with pendulums, clocks with weights, clocks with springs, clocks with music boxes, animated clocks, and a dazzling array of watches.
Time flies when you're having fun, but there was no room for doubt when five o'clock arrived. Our time had run out!
Megan
9/96
UPDATE, August, 1999—
RoadTrip America reader Bill Prion, Jr. writes: "TIME IS UP! Last week I was traveling in Illinois and decided to visit the Time Museum that I had seen on your website. Unfortunately, when I arrived there I was informed that the museum had been closed since March of this year. Please take the appropriate steps so that others will not make a wasted trip. Otherwise, thanks for a great Internet magazine!"