Indianapolis, Indiana

Circlin' Circle City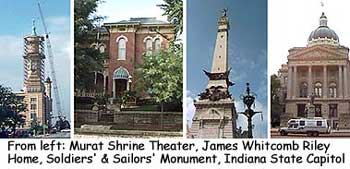 INDIANAPOLIS, INDIANA—
We'd never had the pleasure of visiting Indianapolis before, so, armed with a city map and a few suggestions from readers, we decided to take a self-guided driving tour.
Our first stop was the museum home of the well-known Hoosier poet James Whitcomb Riley. It's located in the Historic Lockerbie Square District, where beautifully restored 19th-century homes line the cobblestone streets. On our way, we passed the spectacular Murat Shrine Theater, an imposing limestone structure of Moorish design which has already undergone interior remodeling and is now receiving an exterior facelift.
We were already impressed by the broad avenues and stately architecture of Indianapolis, and we hadn't even gotten to the heart of the city. The Soldiers' and Sailors' Monument is a 284-foot high obelisk dedicated in 1902 to commemorate Indiana military men who served in the Civil War. When we got out of the Phoenix to take a closer look at the statuary and inscriptions, we were pleasantly surprised to be surrounded by classical music. A closer look revealed speakers hidden in the trees. From Monument Circle, we could see Indiana's State Capitol, and we paused when we got closer to take a picture of the Phoenix in front of the dome.
As we continued our circuit of downtown Indy, we marveled at the ornate Scottish Rite Cathedral, a Gothic wonder with a 54-bell carrillon, and the War Memorial, a massive limestone structure built to honor Indiana citizens who died in both world wars and the Korean and Viet Nam wars.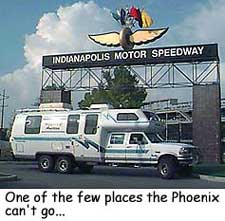 We couldn't call our tour complete without paying a visit to one of the most renowned icons of popular culture anywhere, the Indianapolis Motor Speedway. We weren't sure the tunnels to the infield were tall enough to accommodate the Phoenix, so we paused to commemorate our pilgrimage next to the sign at the main entrance.
It was too short a visit! Indy's a great city! We'll be back!