Over-the-Counter Memories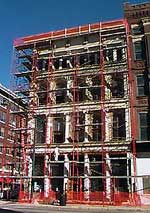 One of the two historic buildings that will open in 2002 as the new
Hook's American Drugstore Museum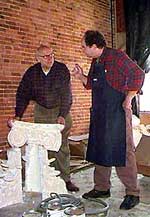 Executive Director James Rogers and Associate Director Michael Harris discuss designs for the new museum

INDIANAPOLIS, INDIANA—

RoadTrip America® first encountered Hook's Historic Drugstore Museum back in 1996. Since then, we've returned whenever our peregrinations have brought us to Indianapolis. The museum, housed in a vintage drugstore on the Indiana State Fairgrounds, offered a unique opportunity to view a remarkable array of historic artifacts while sipping an ice cream soda, and we enjoyed our illuminating conversations with the museum's director, Jim Rogers.

This time, when we pulled up to the front door of Hook's, the place looked disappointingly closed. Mark walked to the door and peered inside. I was giving up hope when Mark walked to the side door, turned, and waved for me to join him. The museum and soda fountain were indeed closed, but Jim Rogers was hard at work in his offices around the corner.

"Yes, we've shut our doors," he said, "Except during the Indiana State Fair."

This would have been gloomy news if it weren't for the fact that a phoenix is about to rise from the ashes of the old Hook's. Jim showed us photographs of two adjoining buildings in Indy's downtown historic district.

"The new museum will open in 2002," he said, "And it's now called Hook's American Drugstore Museum. It will not only house collections that reflect and interpret the nearly 400-year history of the drugstore in America, it will also have a soda fountain and emporium, a museum shop, vintage drugstore restorations, a conference center and theater, a library of community pharmacy and image archives, a botanical garden-- would you like to see the buildings?" We eagerly agreed to meet the next day at the new museum, which is located on South Meridian Street, not far from the RCA Dome and the Indiana Convention Center.

"These buildings were erected in the late 1870's," said Jim, opening the door of the structure that originally (and appropriately) housed the Kiefer Drug Company. Construction was nearly complete on the museum's new offices, which are scheduled to move from the old Hook's in less than a month.

Next door, we met Michael Harris, a member of the American Drug Museum's board of directors and formerly a curator at the Smithsonian. A pharmacist by training and a master carpenter by avocation, Michael was hard at work building display windows. "Windows are an important part of the history of pharmacy," he explained, "Until recently, pharmacists were trained in 'window dressing.'"

We spent a fascinating hour listening to how the collections of the new museum will be assembled from across the continent. Hook's American Drugstore Museum is unique in the country, the first comprehensive drugstore and soda fountain museum anywhere in the United States. You can bet a "two-cent plain" we'll be back when its new doors open!

A tax-exempt public foundation, Hook's American Drugstore Museum, Inc. is guided by a 27- person board of directors. For information about financial support, sponsorship opportunities, collections,or volunteer participation, please contact:

James M. Rogers, Executive Director
Hook's American Drugstore Museum
(317) 924-5825
E-Mail: Pharmuseum@aol.com
---
We pulled into Indianapolis late at night and headed for the Indiana State Fair Grounds' RV park, a convenient place to stay near downtown. As we drove through the main gate, we noticed an inviting little building with a sign identifying it as Hook's Historical Drugstore Museum.
"Stop for a minute so I can peek in the window," I said to Mark.
"It's like King Tut's tomb in there," I said as I climbed back into the Phoenix. "Full of wonderful things."
We went back on Tuesday, when the museum, which also sells candy, sundries and real old-fashioned ice cream sodas,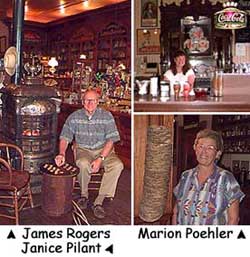 was open for business.
"Our busy season has just ended," said manager Marion Poehler. "We have thousands of people in here every day during the Indiana State Fair."
We felt fortunate to have the place to ourselves, especially since we got to meet the museum's executive director, James Rogers. He gave us a personal tour, explaining how all the furnishings in the building came from Grigsby's Drug Store in the little Indiana town of Cambridge, where they'd been in use from 1849 until 1962. The museum opened its doors in 1966, established by the Hook's Drug Store chain to commemorate the Indiana Sesquicentennial. Hook's stores were a common feature of the Indiana landscape for nearly a century. At its height, the chain operated over 350 drug stores.
"The museum is operated by the Hook Drug Foundation, a private, non-profit corporation originally established to support the communities served by Hook's Drug Stores. Now our focus is on pharmacy education and history," explained Mr. Rogers. "We're expanding our collection to reflect the colorful history of the drug store all over America."
The museum's collection is a study in nostalgia. Cases are filled with once-common artifacts like curling iron heaters and and antique chewing gum wrappers. We found ourselves asking "What is that thing?" over and over, and Mr. Rogers came back with a surprise answer every time. "That's a mold for making pills. That's a cigar-dispening machine." If you're wondering what the object next to Marion in the photograph above could be, click here and play the Gizmo Game!
We couldn't leave without treating ourselves to ice cream sodas. While assistant manager Janice Pilant fixed them, a man came up to the counter next to us.
"I bought my first ice cream soda in here when I was fourteen," he said. "I gave it to my future ex-wife, whom I'd just met at the state fair."
Hook's has done much more than preserve mementos of a bygone era. It's wonderful ambience keeps the romance of the American drug store alive.