The Phoenix One Journals Stories from the dawn of RoadTrip America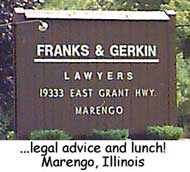 On Monday we took you to the Missouri Wing of the Confederate Air Force before crossing the Mississippi and leaving St. Louis on our trek east. In Mount Olive, Illinois, we learned about Mother Jones, union leader and champion of coal miners whose monument stands in the town cemetery.
Near Bloomington, we enjoyed a visit to the tiny town of Carlock, where Jeanie Wolf sent us to have lunch at the only restaurant in town. Saved from closure by a group of townspeople, the Countryside Family Restaurant is owned by the corporation they formed to purchase the cafe when it was about to shut down. After lunch we paid a visit first to one and then the other of Carlock's two cemeteries. It's probably the only village anywhere that has separate resting places for Democrats and Republicans!
On Saturday we brought you a memorable sign from Downers Grove, Illinois, a suburb of Chicago, and we visited the Kniffen-Downen family in Evanston. Our GIZMO this week was provided by a reader in California. See if it stumps you as utterly as it did us!
We're in Rockford, Illinois, at the moment, where we'll be taking you to the fascinating Time Museum before we head south toward Indianapolis.