Mother Jones Monument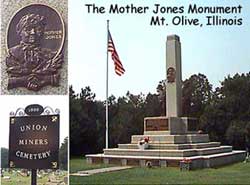 MOUNT OLIVE, ILLINOIS—
We'd seen a sign announcing the Mother Jones Monument in Mount Olive, Illinois, but it was John Farabee, owner of Forest Lakes RV Resort in Staunton, who told us it was worth a visit. "Mother Jones was a remarkable woman," he said. "Even nowadays it would be unusual for a grandmother to head up a labor union, and Mother Jones did it back in the thirties. She literally risked her life."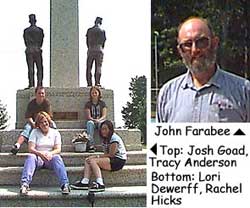 The Mother Jones Monument is the grandest memorial in Mount Olive's Union Miners Cemetery. The cemetery was founded in 1898, and in the mid-1930s, it became the final resting place for coal miners killed in rioting associated with strikes. The names of the slain miners are inscribed on bronze placques. When she died, Mother Jones joined the men she had championed in life, a heroine of the union movement in Illinois.
We weren't the only people paying a visit to Mother Jones' monument on Labor Day Weekend. Enjoying the parklike surroundings were Josh Goad, Tracy Anderson, Lori Dewerff and Rachel Hicks, high school students from Mount Olive and O'Fallon.