Two-Cemetery Town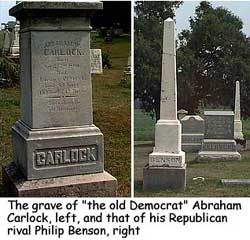 CARLOCK, ILLINOIS—
Carlock, home of the community-owned Countryside Family Restaurant, has another claim to fame. If you drive down Church Street about a mile, past the point where houses have given way to cornfields, you'll find the town cemetery on the right-hand side of the road. A few hundred feet farther, on the other side of the road, you'll see the second one.
Why does a tiny town like Carlock have two cemeteries? The reason goes back more than a century, when Abraham Carlock, a staunch Democrat, was one of the leading citizens. His nemesis in town was Philip Benson, a Republican of equally strong convictions. When Carlock established a cemetery and announced that only Democrats were welcome, Benson created one for Republicans nearby.
We visited the two cemeteries, and were surprised to find markers for members of the opposing families in both. Carlocks seem to be lying peacefully next to Bensons, all differences forgotten. Did the rivalry die with the two men who started it, or did other family members defect to the opposing party? We don't have the answer, nor can we tell you the solution to another quandary. What happens to people in Carlock who voted for Ross Perot?
9/96