Restaurants of the Road
More Eateries

Countryside Family Restaurant
Carlock, Illinois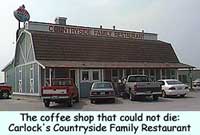 The only restaurant in Carlock, Illinois, may not seem particularly special at first glance. Located next to the gas station and across the street from the elementary school and fire department, it looks like a typical American coffee shop, a nice place to stop for a bite to eat, but nothing to write home about.
We stopped in for breakfast yesterday on the recommendation of Jeanie Wolf, the owner of the local KOA campground. "You'll enoy your meal, and you'll also enjoy finding out about the restaurant," she said mysteriously.
The Countryside Family Restaurant doesn't look unusual inside, either. A long table on one side was clearly the meeting place for locals. We sat down at a booth, and a smiling June Atherton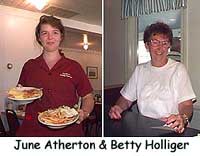 brought us menus. The menus revealed the secret of Carlock's cafe.
Carlock has had a restaurant for as long as anyone can remember, but in 1993, it was on the verge of disappearing. The owners had decided to close the cafe, and things looked bleak for the farmers who'd counted on it for breakfast and coffee every morning.
Some creative thinkers in the community decided that the restaurant was too important to lose. Within two months, the Carlock Community Corporation was formed and enough capital was raised to purchase the building. Many of the stockholders and other supporters volunteered to clean, paint and remodel, and a professional manager was hired. In February, 1994, the Countryside Family Restaurant opened its doors. It doesn't look like it's in any danger of closing them soon.
The menu is an all-American affair, and the prices are so reasonable they almost seem like misprints. Dinners run from US$1.90 for a hamburger to US$9.95 for a ribeye steak with all the fixings. Senior citizens pay even less, and many snowbirds make Carlock a stop every year as they travel to Florida. I had a Western omelet big enough to keep hunger at bay for at least two days, and Mark had a Philly cheese steak sandwich of similar size.
As we left, Betty Holliger, the cashier, invited us to return whenever we're in the area. When we got back to the Phoenix, we put a big red circle in our road atlas around Carlock.
Countryside Family Restaurant
Location: Exit 120 (Carlock) off Interstate 74 near Bloomington; look for the tall Amoco sign
Mailing address: P.O. Box 324
Carlock, IL 61725
(309) 376-3302

9/96