The Phoenix One Journals Stories from the dawn of RoadTrip America
The Royal Tyrell Museum of Paleontology in Drumheller, Alberta, is a dinosaur-lover's dream come true. We'd like to go back and watch paleontologists unearth more Jurassic treasures in the mother lode of ancient bones surrounding the museum complex.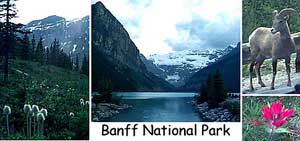 The Canadian Rockies beckoned in the West, and we set our sights on Banff. On the way, we paused in Canmore, where we discovered the Rockies' newest micro-brewery, the Grizzly Paw Pub & Brewing Company. The excellent ale is nicely complemented by great food and a spectacular view.
We toured Banff National Park and got as far north as the Columbia Icefields, where giant snowmobiles take visitors right up to the top of Athabasca Glacier.
On the west side of the Rockies, Fairmont Hot Springs welcomed us with natural warmth. There's nothing quite like a fifty-foot hot waterfall! We headed south next, which meant leaving Canada. Before we departed, we received e-mail from Bob McCarthy of Calgary, Alberta, who offered valuable information for visitors.
We arrived in Sandpoint, Idaho, just in time to enjoy one of the outdoor concerts for which this lakeside town is famous. We relaxed on the lawn and enjoyed the music of Flutopia as we watched the bright colors of wind surfers and parasails on Lake Pend Oreille. We also found a very clever GIZMO to share with you!
Marvin welcomed a new initiate into the Fellowship of the Bone! Tasha, a Siamese cat who lives in Kent, Washington, with her human companion Richard Snyder, has been corresponding with Marvin for several months by e-mail. She finally sent her picture, and now claims the distinction of being the only cat in the Fellowship!
Sandpoint will be our base for the next few days. Join us as we explore North Idaho, land of lakes, mountains and friendly folks!