Banff National Park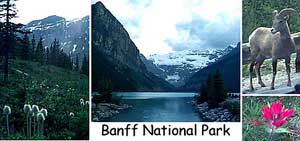 BANFF, ALBERTA—
Banff National Park offers a myriad of wonders that could easily take a lifetime to explore and enjoy. Even so, a one-day trip from Banff to the Columbia Icefields is a great introduction to the splendor of the Canadian Rockies.
If you enter the park on the Trans-Canada Highway heading west from Calgary, the town of Banff is the first major landmark, a charming Alpine hamlet surrounded by lakes and mountains. Banff also has a hot springs resort open to the public. You can even rent a bathing suit if you've arrived unprepared!
After Banff, the Trans-Canada Highway bends northward to the park's crown jewel, Lake Louise. Lake Louise, pictured above, is one of the most photographed places in the world, but all those flashbulbs have done nothing to diminish its pristine azure glory. With an unspoiled glacier at one end and the ultra-civilized Chateau Lake Louise at the other, Lake Louise is the meeting point of extremes. It's also the crossroads for tourists from every corner of the globe.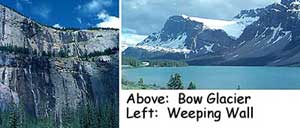 The Icefields Parkway leads north from Lake Louise through some of the most spectacular mountain scenery in the world. Animals are abundant, and traffic jams usually mean a bighorn sheep like the one pictured above have paused to offer an irresistable photo opportunity. Elk and bear are also common sights.
Glaciers and icefields rise magnificently on both sides of the Parkway. Bow Summit above Peyto Lake, pictured at the left, is only one of many.
Farther north, Weeping Wall lives up to its name in the summer, when countless waterfalls plunge over its cliffs. In the winter, ice climbers scale the frozen cascades.
North of Weeping Wall, the Parkway enters Jasper National Park, where one of the most popular destinations is the Columbia Icefields. Giant snowmobiles carry visitors up the steep icy slopes of Athabasca Glacier.
The trip back to Banff takes about two hours, but fortunately the sun sets late in the summer Rockies. One day's never enough, but at least in July, it can be a very long one.
Banff National Park
Box 900
Banff, Alberta T0L 0C0
(403) 762-1550