Giant Snowmobiles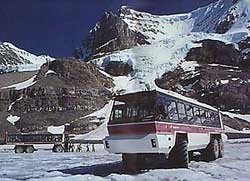 The huge Brewster snowmobiles that take tourists up a near-vertical grade to the top of Athabasca Glacier near Banff, Alberta, were designed especially for their unique job. Carrying fifty passengers at a time, the Brewsters make it possible for anyone to experience a glacier, no ice axe necessary!
The Columbia Icefield is located on the boundary of Banff and Jasper National Parks. One of the largest accumulations of ice and snow south of the Arctic Circle, it covers an area of nearly 150 square miles. The Athabasca Glacier is one of eight major glaciers fed by the Columbia Icefield, whose runoff also feeds streams and rivers emptying into the Arctic, Atlantic, and Pacific oceans.
The Athabasca Glacier is a wedge of ice about four miles long and half a mile wide, and the Brewster "Ice Age Adventure" tour takes visitors nearly two miles up the slope in a "Snocoach." The driver explains how glaciers are formed and points out interesting geological features, and visitors have a chance to walk around on the glacier's surface at the icefall below the glacier headwall.