The Phoenix One Journals Stories from the dawn of RoadTrip America
December 6, 1998
South along Oregon's coast to California's redwood kingdom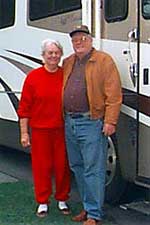 Anne & Ernie Harry
While were still in Eugene, Mark struck up a conversation with Ernie Harry. He and his wife Anne had come to Oregon to take possession of their brand new motor home, a true palace on wheels. Before leaving Woodstock, Georgia, their home town, Ernie had acquired a new laptop computer and a cellular telephone. The salesman had shown him how to connect to the Internet using the phone, and it all worked smashingly... for a while.
"It stopped working after we left the Atlanta area," said Ernie. "We haven't been able to get our e-mail since."
It sounded like a problem we might be able to help with. In fact, it sounded all too familiar. It's been nearly five years since I first coaxed a recalcitrant modem to shake hands with a cellular telephone. Shouldn't it be easier by now?
To make a long, sad story short, it wasn't. I spent nearly three hours in deep conversation with Ernie's laptop and telephone, but none of my modem spells had any effect at all. I hate admitting defeat, but flummoxed I was, and flummoxed I remain. Contrary to what you might expect by looking at glossy ads showing carefree beach bums and happy hikers logging on from the hinterlands, connecting to the Internet from the road is still a challenge. A real mobile connection is still my grail.
Before heading west to the Oregon coast, we paused in Eugene for a repair to the Phoenix One's propane tank, which was suffering from a leaky valve. Curt Pruitt at Eugene RV Repair replaced the faulty part, and we also met his brother Ric. Both have been in the RV business for decades, and they're walking archives of the history of the industry.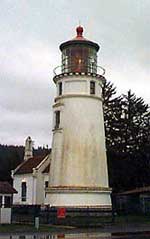 Umpqua River Lighthouse
Heading south on the coast, we were buffeted by wind and slashed by rain. The ocean was a magnificent beast, smashing against the black rocks below us, and tossing logs like toothpicks. We stopped overnight at Umpqua River Lighthouse, a beacon built first in 1857, and rebuilt in 1861 after it was smashed in a storm. A 65-foot tower, the lighthouse overlooks the sand dunes from a 165-foot bluff.
The rain continued into the next day as we moved south. Near Brookings, just north of the California border, we took refuge at Harris Beach State Park. We could see the surf from our camp site, and we encased ourselves in yellow slickers to walk on the wild beach. The next day, the weather lifted as we drove through the magnificent redwood forests of California's north coast.
Eureka, California, is the home of RoadTrip America. We paid a visit to Larry Goldberg, whose company, NetHelp International, sponsors the site. We also visited Bob Morse, who provided technical expertise to RoadTrip America when it first came to Eureka in 1996.
Almost by accident, we discovered that crab season opened in Humboldt County on December 1. We parked on the waterfront and noticed that a diminutive operation called the Crab Shack was attracting a long line. Eurekans prize fresh Dungeness crab highly enough to stand in the rain to buy it. We tried some, too, and it was so good that the next day we had some more at a venerable eatery on the waterfront called The Vista.
We're headed south once more on Highway 101.
Megan
Ukiah, California
December 6, 1998