Restaurants of the Road
More Eateries

The Vista
Eureka, California
Update (9/18/07) Jesse from Arcata writes: "…I just wanted to update your update, because the Vista is open once again. I just moved up to Arcata for college and so I don't know much about its history, but I've seen two concerts there in two weeks and was looking for information on an upcoming concert. Also, the front is painted up with lots of cool and colorful artwork these days. Just thought you might want to know…"
Update (5/15/05) Local Trinidad, California singer/songwriter Kahish reports that the Vista is no longer open. Kahish has opened a café in Trinidad called KAHISH'S CATCH CAFÉ on Main Street that we hope to visit someday soon.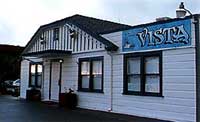 DECEMBER, 1998

We asked the Zerlang brothers where we might find some good clam chowder. Fifth generation crabbing men, they run the Crab Shack on Eureka's waterfront. When it comes to knowing about seafood, they are the horse's mouth.
"The Vista," they said in unison. "It's just a few blocks from here."
If the Vista were any closer to the water, it would have to be on a boat. It's been a feature of Eureka's waterfront for many a year, the favored watering hole of the fishermen and crabbers who unload their boats less than a hundred yards away. It was a cold, rainy, windy day, and by the time we took refuge inside, we'd even been battered by a flurry of hail. Clam chowder was sounding better by the minute.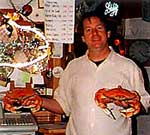 It doesn't get any fresher: Bob Graves with caught-today Dungeness crab
We were greeted by Bob Graves, one of the Vista's new owners. Before we sat down at a cozy booth in the front, he showed us the Vista's private dining room, which was brightly decorated for a Christmas party. The long room had a view of the water and the boats.
"We use this room for all sorts of things," said Bob. "We'll have punk and new wave music in here and pack the place with young people. The next day we'll be serving crab louie and white wine to a ladies' club. We serve the entire community."
Moving back into the main room, we sat down to peruse the menu. It's a delightfully eclectic combination featuring not only fresh seafood and local Chantrelle mushrooms, but also Jamaican jerk chicken and other dishes that showcase the talents of chef Tommy Ray Chase, the Vista's other owner who hails from Louisiana.
We settled on the obvious, clam chowder and cracked crab, a feast of freshness and flavor accompanied by warm bread, french fries, fried zucchini, and the best hot tea I've ever been served in a restaurant. Is there a better repast for a winter afternoon on a rugged coast? And we had the feeling that summer's just as good. If you want to eat well and soak up a little of Eureka's unique ambience, the Vista is the place. Most nights there's live music by local artists, and, just like the menu and the clientele, there's something for everyone.
The Vista
91 Commercial Street
Eureka, California 95501
(707) 443-1491