'Tis the Season... For Crab!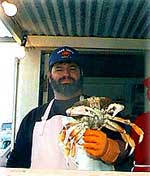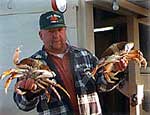 It doesn't get any fresher than this... Don & Larry Zerlang displays succulent Dungeness crab straight from the boat & boiler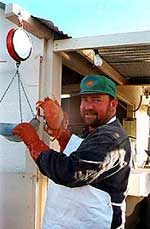 Leroy Zerlang and his brothers have been sating the appetites of Eurekans since 1992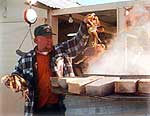 Larry Zerlang adds crabs to the boilers, which contains "Nothing but water and salt."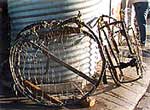 Crab traps: Crustaceans check in, but they don't check out
EUREKA, CALIFORNIA
If you ask people across North America what December first means, chances are they'll say something like, "Time to put up holiday lights," or "Shopping!" But the inhabitants of California's north coast have something else to anticipate when the turkeys of Thanksgiving have flown. December first is when crab season opens, a fact that would have eluded us entirely had we not parked in a vacant lot at the corner where 'C' Street meets the waterfront.
It was a chilly, windy day, but even rain showers had not dampened the obvious enthusiasm of a crowd of people huddled in line
at a small booth near the dock. Steam was rising from two large barrels, and as we drew closer, we found we'd discovered the Crab Shack. Behind the counter, three burly men were distributing boiled Dungeness crab to eager purchasers.
The Zerlang brothers, Larry, Leroy and Don, have been running the Crab Shack since 1992, and they're the fifth generation of Zerlangs to be in the crab business. They get their wares right off the boats when they return from their daily forays to their traps just beyond the breakwater in Humboldt Bay.
"Crab season opens December 1," said Larry, "And it runs until spring. When it's over, the Crab Shack turns into the Tuna Shack."
A sign suggested making reservations for Christmas, and when I asked if that was the most popular day for crab, Larry replied, "It's popular, all right, and so is New Year's. But the biggest day ever is when the Forty-niners play in the Super Bowl. You gotta have crab for that. We're big Forty-niners fans around here."
Since there were no crab boats at the dock, Larry suggested we might drive out along the bay and see them as they headed north. "But stay back from the sand if the waves are breaking over the jetty," he added. "It can be rough out there."
"Oh, and by the way," Larry added smiling, "You can take pictures only if you buy a crab."
We departed with a healthy specimen neatly encased in a plastic bag. We did indeed drive to a spot where, amid a driving rainstorm, we could see the crab boats forging through the angry surf. Crabbers are a hardy lot, the western equivalent of Maine lobstermen.
I've never had crab that tasted better than that one, which— lacking a nutcracker— we attacked with pliers that night and ate with melted butter and bread.

Crabbers returning from a cold day on the water
The best way to get crab at the Crab Shack is to walk up and point to the ones you want. But if you can't make it to "the bottom of 'C' Street" in Eureka, you're in luck. The Crab Shack takes orders by telephone. Want a special treat for the holidays? Fresh north coast Dungeness crab is awfully hard to beat.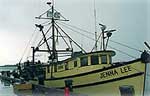 A crab boat docked in Eureka
The Crab Shack
Foot of 'C' Street
Eureka, California 95501
(707) 445-1910