The Phoenix One Journals Stories from the dawn of RoadTrip America
November 29, 1998
Summer Lake to Eugene & Corvallis, Oregon
If Thanksgiving means feasting with friends, then we celebrated ours a week early. When we arrived at Summer Lake Hot Springs, we hadn't been sure it would be open. "We'll spend a couple of hours there," we said, "And then we'll push on to Bend."
Summer Lake Hot Springs, however, was a surprise in every respect. Not only was it open for business, its managers greeted us like friends. Hospitality and hot water are powerful magnets, and within minutes we'd revised our plans. We settled in for the night.
On the second evening, our hosts, whose names we had discovered were Rick and Diana, joined us for a crepuscular glass of wine in the Phoenix. A large pot of rice and black beans was simmering on our stove top, and before the evening was done, the four of us had consumed the majority of it.
Rick and Diana, it emerged, have lived an unusual life. Just before assuming their current role as hot springs managers, they lived in a remote cabin in Idaho. "No electricity," said Rick. "A mile and a half to the mailbox," said Diana. It was one of a long line of unusual domiciles in which they'd raised and educated four daughters. When it came to self-sufficiency, these two could write a book.
Before the evening was out, Rick, Diana, Mark and I had hatched a plan for a feast. It was a week before Thanksgiving, and I had been seduced by a frozen turkey in a supermarket in Susanville. We had also acquired two venison steaks I had no idea how to cook. "We know how," said Rick and Diana. "The only meat we eat is wild. We'll marinate and barbecue the venison, and we can smoke the turkey."
The next night was Thanksgiving, regardless of the date. We dined chez Rick and Diana on smoked turkey, barbecued venison, baked sweet potatoes and green bean casserole. When we had all eaten more than our fill, Diana pulled a dramatic chocolate dessert out of thin air. It was a feast that eclipsed any I've had in grand mansions, fabled inns. Best of all, it ended with immersion in a hot pool under a canopy of stars. Feral civilization. Wild culture.
The weather turned from clear to freezing rain. Wind howled across Summer Lake, buffeting the Phoenix all night long. We were a boat tossed on an ocean of air, and morning brought no respite. For two days, the wind roared, and when the gale subsided on the third day, in its place came rainy torrents.
None of this would have mattered if we hadn't needed to get west to the coast. Rain on Summer Lake meant snow in the Cascades. By one pass or another, we had to climb the mountains to get to the milder coast. It was the first time in five years on the road we were traveling without chains.

We left Summer Lake on a gray and drizzly morning. "We'll pray you over the mountains," said Diana as we waved farewell and pulled onto the highway. We'd decided to brave Willamette Pass on Highway 58. It was higher than the more northerly Santiam, but the road was a truck route and more likely to be clear.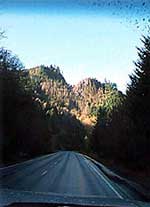 Perfect road conditions, but please don't call them boring
My fears of sliding off the road or becoming embedded in a snowbank were wasted. We traversed the Cascades without any incident more daunting than snowflakes on our windshield. As we descended into Oakridge and drove on toward Eugene, I said, "Well, I was hoping for a window in the weather, and I got one." Mark said, "I'm actually kind of disappointed. I was ready for more of a challenge."
Skirting the perimeter of Eugene in waning daylight, we somehow took a turn onto a rural road that offered no opportunities for turning around. We covered ten miles in a useless direction before we found our way onto Interstate 5. As we pulled onto the highway, a mighty wind rose to meet us. Mark pushed the accelerator to the floor, and the Phoenix strained to reach forty miles an hour. A large tree branch flew across the road as Mark struggled to maintain a forward trajectory. As soon as we could, we left the highway and made our way to a campground on Eugene's north side.
The wind storm had knocked down power lines, and the campground was without electricity. When Mark was outside hooking the Phoenix up to water, he noticed a forlorn-looking couple sitting inside a small motor home in the dark in the space next to ours. "We came here to do our laundry," they said, "But that's obviously not happening."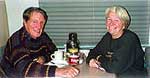 Ron & Valerie Redgrove
Before long, our neighbors, Ron and Valerie Redgrove, had joined us in the Phoenix for a cup of tea, and we had learned that they hailed from Sussex, England.
While we were chatting, lights reappeared across the campground, and the wind died down to a breeze. It had been a severe storm, causing accidents on several thoroughfares, ripping roofs off scores of homes, and uprooting hundreds of trees.
"The weather gods must have been listening when I said our trip over the pass was boring," Mark said.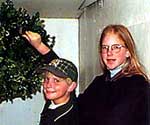 Will & Martha Haake, Spring Creek's Holly Farm's fourth generation
The day after Thanksgiving, when the rest of the world was heading for the malls, we drove out Highway 126 in search of a holly farm. We found one that has been sending Oregon greenery around the world for four generations. Spring Creek Holly Farm, on the banks of the McKenzie River, boasts eight hundred acres of holly orchards and nearly two thousand of Christmas trees.
Right now, we're in Corvallis, Oregon, the home of my cousins Rosemary and John Magee, and their children Clare and Max. We'll head south tomorrow, and— are you listening, weather gods? — clear, still and dry would be utterly fascinating.
Megan
Corvallis, Oregon
November 29, 1998