81 miles - About 6-8 hours
The Black Hills, ancestral home to the Sioux Nation and teeming with Americana heritage historical sites including Mt. Rushmore, Custer State Park, Wind Cave and an ancient burial ground for giant mammoths. This route is one of the best in the United States for viewing large herds of bison and other wildlife.
Here are a few highlights to look out for along the way:
Rapid City, South Dakota
(Starting point)
Rapid City is the gateway city to the Mount Rushmore National Memorial, Crazy Horse Memorial, Badlands National Park and much more.
Here is another route, written by Peter Thody
that visits many of the places described below -- with a slightly different focus and ending in Deadwood.
Mt. Rushmore National Memorial
(Mile 24)
Mt Rushmore National Memorial.
The four presidents immortalized there were carved from the granite face between 1927 and 1936. It is perhaps the most recognized monument in the world.
Custer State Park
(mile 45)
Custer State Park
is found along the Iron Mountain Road, a twisting road with three tunnels that all have north facing aspects toward Mt. Rushmore, and multilevel switchbacks. Within the park you will encounter a huge herd of bison, deer and other wildlife native to the area. Allow one to two hours to drive all the way through the park.
Wind Cave National Park
(mile 67)
When you enter
Wind Cave
you will probably know immediately how it got its name. Difference in air pressure causes a brisk and cool wind to flow up the tunnel descent into the cave. In the cave itself, you will be guided to calcite formations called boxworks that look like honeycombs. They are unique to this cave. Tours last 1 to 1˝ hours.
The Mammoth Site
(mile 81)
The Mammoth Site
is located in Hot Springs. An ancient sinkhole filled with water was a popular drinking place for animals, but the steep sides make it difficult for larger animals like Mammoths to exit. As a result there are some excellent specimens being uncovered. Visitors can walk around the bones, tusks and teeth of the huge extinct creatures. It is an indoor facility, so you won't even get your feet muddy.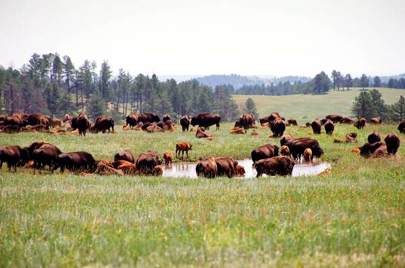 Bison bedding down by a water hole
at Custer State Park in South Dakota.
Photo by Peter Thody