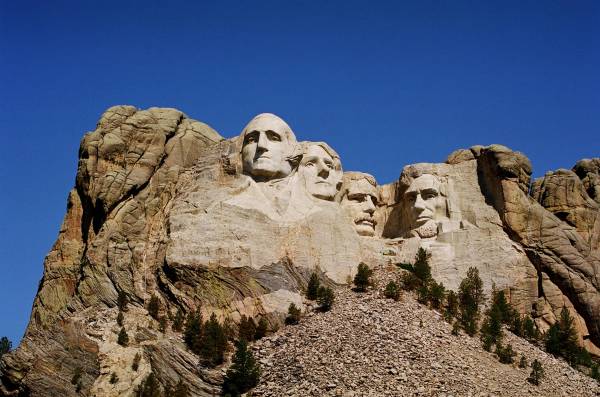 130 miles – 4 hours (at least!)
Take the slow route from Rapid City to Deadwood and get a taste of the Black Hills. Along the way you'll visit two of America's greatest sculptural achievements, experience the twists and turns of a truly unique road, take a diversion through buffalo country and end up in a town packed full of Western history.
Here are some of the attractions you can find along this "slow road to Deadwood":
Rapid City
(starting point)
From
Rapid City
, head south on U.S. Route 16, a road which, for reasons that will shortly become apparent, is also known as Mount Rushmore Road.
Mount Rushmore
(mile 23)
Even if it's your first visit,
Mount Rushmore
is one of those places you'll feel you've been before, so familiar are the 60 ft high faces of Presidents Washington, Jefferson, Roosevelt and Lincoln, carved into the Black Hills.
Iron Mountain Road
(mile 26)
Head south on the
Peter Norbeck Scenic Byway
, this section is the
Iron Mountain Road,
a remarkable (and slow!) drive that takes in three corkscrew-shaped pigtail bridges and three tunnels strategically designed to frame views of Mount Rushmore.
Custer State Park, Wildlife Loop Road
(mile 43)
Follow the 18 mile
Wildlife Loop Road
and there's every likelihood you'll encounter the park's famous wild burros and at least some of the 1500 bison that call this place home.
Crazy Horse Memorial
(mile 79)
The Crazy Horse Memorial
will some day become a modern wonder. Until then, it's a work in progress that honors the Native American.
Deadwood
(mile 130)
Deadwood
is unmistakably a gambling town but even if the casinos don't ring your bell, there's plenty of history here too including the graves of Wild Bill Hickok and Calamity Jane.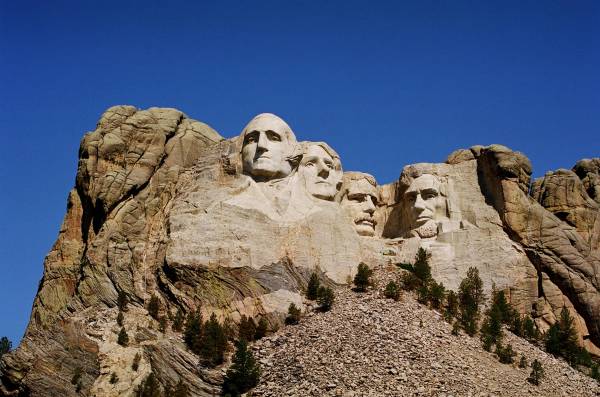 Great Faces. Great Places. Mount Rushmore is
South Dakota's most immediately recognizable landmark