| | |
| --- | --- |
| 1952 Oscar Mayer Wienermobile | Easily the most famous of all product-shaped promotional vehicles, the Oscar Mayer Wienermobile has a history dating back more than half a century. The pristine 1952 Wienermobile pictured here is one of the most-photographed artifacts at the Henry Ford Museum in Dearborn, Michigan. |
Want to drive the dog? Drivers are called (what else?) "Hotdoggers." Click here for more info.
Click here for "On the Road with the Hotdoggers."
For general information about the Wienermobile, click here.
Want information about getting the Wienermobile for your event? You can try calling the marketing department at the Oscar Mayer headquarters in Madison, Wisconsin. (Please note: RoadTrip America has no information about the Wienermobile's schedule or appearances.)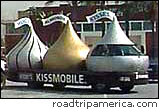 1997 Hershey's Kissmobile
A newer model of the Wienermobile was built by Prototype Source, a company in Santa Barbara, California, that specializes in building one-of-a-kind vehicles and concept cars. Prototype Source is also the creator of Hershey's Kissmobile, which was first commissioned by Hershey in 1997 to celebrate the 90th birthday of Hershey's Kisses.