One of a Kind, One at a Time
Santa Barbara, California—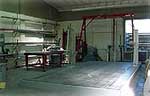 The super-flat floor upon which a chassis is built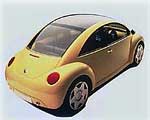 The Volkswagen Concept I "New Beetle"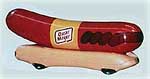 Oscar Mayer Wienermobile
(
click here for a picture
of an earlier model
)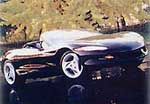 Corvette Stingray III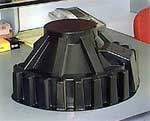 Another one-of-a-kind device: engine topper for the "Back to the Future" DeLorean
When you see a car rolling down the street, it's east to forget that somebody had to build the first one. Someone had to start from scratch, bring drawings into three dimensions, and create the original model from which all copies can be cloned.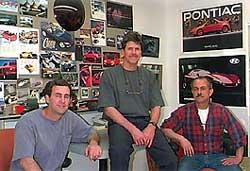 Bruce Brackman, Ted Shaffer & Dorian Duke of Prototype Source, Inc.
Bruce Brackman and Dorian Duke are two such creators. Their company, Prototype Source, specializes in building concept vehicles for such companies as BMW, Chrysler, Ford, General Motors, Mazda, Subaru, and Volvo. Recent projects include the Volkswagen Concept I ("The New Beetle") and the Chevrolet Corvette Stingray III.
They've built lots of other firsts, too, many of which are top secret. "That's why we keep this eyeball burner here," said Bruce when we visited Prototype Source's headquarters in Santa Barbara, California. "We could show you our other projects, but then we'd have to burn your eyes out."
While much of Prototype Source's work revolves around making the first vehicle from which others follow, the company is often asked to make one-of-a-kind creations. Bruce and Dorian recently redesigned the Oscar Mayer Weinermobile, for example, and last year, they developed and built the Hershey Kissmobile which is currently on tour promoting Hershey's Kisses and the Children's Miracle Network.
"Since then we've been flooded with inquiries for all sorts of vehicles," says Bruce. "We'll see what's next!"