Worth an Incredible Journey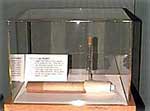 Thomas Edison's
last breath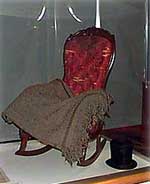 Abraham Lincoln's last
theater seat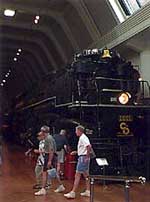 1941 Lima Allegheny, one
of the largest locomotives
ever built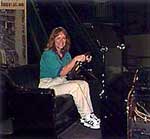 Megan tries on a
Model T for size

Thomas Edison gives
advice by telephone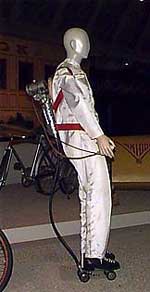 1950's innovation:
Motorized roller skates
On October 12, 1992, Hector Quevedo Abarzua and his son Hugo Quevedo Liberona left Punta Arenas, Chile, in a
Model A Ford roadster
. Twenty-six months and 22,000 miles later, they arrived at their destination, the Henry Ford Museum in Dearborn, Michigan.
I have no doubt that Hector and Hugo thought that the museum was worth the journey. The Henry Ford Museum is one of the world's great repositories of cool stuff. Dedicated to innovation, invention and perseverance, it's a great place to find inspiration, too. Hector and Hugo's Model A almost made us cry.
Henry Ford founded the museum in 1929 "to show how far and fast we have come" in technological achievement. The building, which covers more than ten acres, is bursting its walls with proof of human resourcefulness and ingenuity. In other words, this place is gizmo heaven. For every item you instantly recognize, like a telephone or a printing press, there are fifty others that make you stop and say, "What IS that thing?"
Not surprisingly, the Henry Ford Museum does a smashing job displaying cars. There's the only existing 1896 Duryea Motor Wagon, which was the first production car in America, and five presidential limos, including the one in which John Kennedy was assassinated in 1963. There's a 1952 Oscar Mayer Weinermobile and lots of other one-of-a-kind models. You can sit in the driver's seat of a shiny black Model T.
Motor homes are represented, too, by Charles Kuralt's last "On the Road" vehicle and a trailer Henry Ford once loaned to Charles Lindbergh. There's also a classic "silver bullet" Airstream trailer parked next to a row of Burma Shave signs ("Within this vale - Of toil and sin - Your head grows bald - But not your chin - Burma Shave"), and a vintage Volkswagen Westphalia camper. The oldest RV on display was a 1929 model made by the Covered Wagon Co. of Mt. Clemens, Michigan, the first company to make motor homes. By the end of the 1930s, 300 such companies were making them. And you thought Winnebagos were somehing new!
We kept wandering, marveling at agricultural implements, airplanes, locomotives, robots, and an unending supply of remarkable inventions. There's a bicycle built for ten, and a mannequin displays a pair of motorized roller skates patented in 1958. They had a 1 horsepower, air-cooled, single cylinder motor, and the inventor had dreamed of outfitting messengers in Manhattan with personal wheels. Really, you will not get bored at the Henry Ford Museum. The second you think you've seen it all, you'll pick up an old- fashioned telephone receiver and hear Thomas Edison telling you to "Keep at it!"
You will, however, get tired, and the cavernous building isn't air conditioned. Fortunately, a convenient coffee shop attached to one side is nice and cool. You can buy a soda for $2 "and get free refills all day," said the young man at the cash register. Another good innovation! There are also lots of places for kids to play and adults to sit.
I have hardly scratched the surface here. I haven't even mentioned some of the Museum's most famous mementos. On display are Thomas Edison's last breath, which is preserved in a test tube and the theater seat in which Abraham Lincoln was sitting when he was shot.
If you have never been to the Henry Ford Museum, go. And allow enough time to see the other half of Henry Ford's legacy, Greenfield Village. We didn't have time to visit the 81-acre collection of buildings and homes in which America's greatest inventions — the auto, the airplane, the light bulb — were developed. We'll be back, because we agree with Hector and Hugo. The Henry Ford Museum is a destination worth an incredible journey.
Henry Ford Museum & Greenfield Village
20900 Oakwood Blvd.
Dearborn, Michigan 48124-4088
www.hfmgv.org