Sweet Encounter


Phoenix One Meets Kissmobile
Los Angeles, California—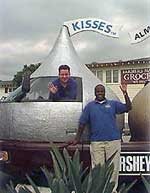 Chocolate Ambassadors and Kissmobile Pilots Phil Funari and Jeff Daly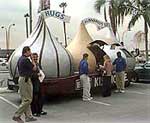 The Kissmobile open for business at Farmer's Market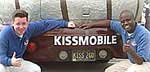 Ultimate Pennsylvania vanity plate: "Kiss 2 Go"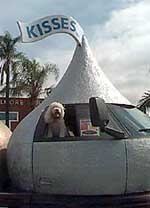 Marvin the Road Dog hands out lots of kisses of his own, but this is his first time inside one!
Hershey's Kisses have been around for nearly a century. To celebrate their ninetieth birthday, Hershey unveiled the Kissmobile, the rolling monument its perennially popular foil-clad chocolates.
We first caught sight of this candy lover's dream machine in San Diego on Super Bowl weekend. There it was ahead of us on Interstate 8, a shiny brown chassis topped with three 7 1/2-foot-tall fiberglass replicas of Hershey's famous treats: two Kisses and a Hug. But the Kissmobile was too slippery for the Phoenix One, and slid off the freeway before we could change lanes and do the same. "We've got to see it up close some day," I said. "I'm going to track it down somehow."
Since we had no hope of catching it on the road without guidance, I took up my pursuit on the World Wide Web, where I discovered the Kissmobile had its own toll-free telephone number. A call to Kissmobile Headquarters, which turned out to be in Chicago, revealed that my quarry was within easy reach. On February 11, 1998, the Phoenix One pulled into the parking lot at Farmer's Market in Los Angeles. There, gleaming in the sunshine was the Kissmobile, and standing nearby were its two pilots.
We introduced ourselves and found our hands immediately full of chocolates. Jeff Daly and Phil Funari, the Kissmobile's "chocolate ambassadors," invited us to look as long as we liked at their unique set of wheels.
The front compartment, a silver-coated Kiss, is the cockpit, which sports a custom wrap-around windshield. The second, clad in the gold foil of a Kiss With Almonds, holds controls and an audio-visual display. At the back is a striped Hug. "That's the refrigerator," explained Jeff. "It can hold 230,000 Hugs and Kisses."
The Kissmobile was built by Prototype Source in Santa Barbara, California, a company that specializes in transforming concepts into three dimensions. The Kissmobile is 25 1/2 feet long, 11 1/2 feet tall, and 8 feet wide. Riding on a GMC truck chassis, it weighs 13,250 pounds. Prototype Source took the project from idea to reality in six months.
Jeff and Phil love their job. "I always say it's the sweetest job in the world," said Phil. "And people just love the Kissmobile. When we were on our way to San Diego, we got caught in traffic. A California Highway Patrol officer pulled up next to us and asked if we had a deadline to meet. We said yes, so he turned on his lights and escorted us down the shoulder until we were past the jam."
It helps that their cargo is a universal currency. "Just about everybody loves chocolate," said Jeff. "And it's our job to hand it out. Can you think of a more pleasant assignment?"
Interested in Driving a Food-Shaped Rig?

Wienermobile drivers are called (what else?) "Hotdoggers." For information about becoming a Hotdogger, click here.

Hershey Kissmobile drivers are known as "Chocolate Ambassadors." Click here for more info.
Part of the Kissmobile's mission is to support the Children's Miracle Network, a charity for which Hershey's and its employees have raised $5 million since 1987. The goal of CMN is to ensure that hospitals will treat all children regardless of a family's ability to pay. The Kissmobile visits children's hospitals as it travels the country, sharing the message that "Every Kid Deserves Hugs and Kisses."
Jeff and Phil think adults deserve them, too. We left with our hands too full to wave good-bye.