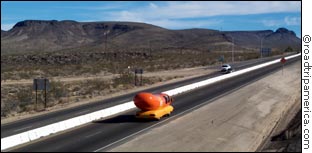 ON THE ROAD WITH THE HOTDOGGERS
In the last twelve months, road warriors Nichole Martinez and Christopher Szwiec have crisscrossed the country, racking up over 40,000 miles and visiting nearly thirty states -- and they got paid for doing it. What's their secret? They are both senior Hotdoggers. This doesn't mean they enter food-eating contests or rip the slopes on skis. Nichole and Christopher drive one of the most famous mobile marketing vehicles ever created, the Oscar Mayer Wienermobile.
Nicole, 23, a recent graduate of the University of Colorado at Boulder, was recruited to apply for the coveted position at a career day on campus. Unlike most Hotdoggers, she saw a Wienermobile for the first time after she had been accepted into the program and was enrolled at "Hot Dog High." Hot Dog High is a two-week training program in Madison, Wisconsin, that transforms college grads into Hotdoggers.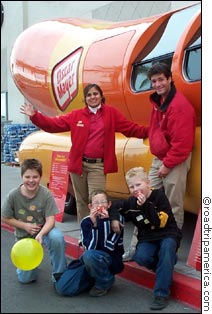 Hotdoggers Nichole Martinez and Christopher Szwiec spread cheer Oscar Mayer style in Las Vegas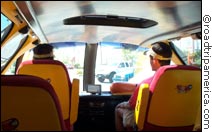 On the road again: Driving the dog
Christopher, 25, graduated from the University of Wisconsin -- Go Badgers! -- with a double major in Spanish and Information Systems. Like Nichole, he successfully made his way through the three-stage qualifying process that winnowed the original pool of several hundred applicants down to the final group of twelve Hotdoggers.
In years past, a Hotdogger was hired only for a three- to four-month summer season. For the last couple of years, however, assignments have been lengthened to a full year. Nichole and Christopher are unique in that Kraft Foods, the owners of the Oscar Mayer brand, asked them to return for a second year and coordinate a special project.
As you may have seen on national television, Oscar Mayer has been running a contest for the last several weeks. Consumers have been invited to submit wishes for what they would do if they could have the Wienermobile for one day. There will be fifty winners, one from each state. In addition to their normal Hotdogger duties, Christopher and Nichole's assignment is to make all these dreams come true.
While the Wienermobile's mission is, obviously, to promote Oscar Mayer products, there's no denying that the Hotdoggers spread cheer as they go around the country on their appointed rounds. We watched the happiness erupt as Christopher and Nichole parked their Wienermobile in front of an Albertson's grocery store near the Community College campus in Henderson, Nevada. Almost immediately, Christopher coaxed three very shy young women out of their car by announcing on a hand-held mike that they had won a "contest" since one was wearing a "mustard-colored" shirt. Within minutes, he was photographing them in silly poses with the Wienermobile. At the same time, Nichole was teaching a kindergartener the "Wiener" dance, tooting the theme song on an Oscar Mayer whistle, and proudly displaying her class "W" (Yes, for wiener) driving license. Unlike many food promoters, Hotdoggers don't hand out samples, but rather encourage visitors to sing the Oscar Mayer song and get their photos taken with the Wienermobile.
Nichole and Christopher share driving duties equally, although Nichole expressed a preference for afternoon and night driving since she is not normally a "morning person." I watched as she deftly positioned the 27-foot long, 11-foot tall vehicle into - believe it or not -- a single parking space.
There are six Wienermobiles on the road at any given time, and each one has a name. Christopher and Nichole's 2003 rig was called "Yummy," and their 2004 vehicle is the brand-new "Oscar." It was built on a GMC chassis by Prototype Source in Santa Barbara and features a horn that plays the Oscar Mayer Wiener song, complete with lyrics.
This year's national crew of Hotdoggers is comprised of three men and nine women. Last year, the ratio was closer to even with five and seven. Three of the 2004 Hotdoggers, like Christopher, are fluent in Spanish.
"The salary of a Hotdogger is comparable to a first office job for a recent college graduate," according to Christopher, but it provides unparalleled opportunities to see America, from small towns to major cities. Assignments are sometimes glamorous, as when Christopher piloted "Yummy" to the 76th Academy Awards in Los Angeles. Occupying the passenger seats were members of the Pixar Film team behind "Finding Nemo." But it was a simple "meet and greet" at a mess hall at Camp Pendleton last year that Christopher recalls as even more memorable. The troops there were headed for combat duty in Iraq. For a few hours before they shipped out, Christopher said, the Wienermobile reminded several hundred scared young soldiers that America cared about them.
A typical day for a Hotdogger includes early morning appearances on local TV stations followed by two public "meet and greet" events, each lasting about three hours. These events include appearances at county fairs, store openings, sports venues, and a variety of other special events. A professional Hotdogger can expect to spread Wienermobile good cheer at 500 scheduled events on a typical year-long tour of duty. Hotdoggers usually get two days off each week, but in addition to hosting the events, they have to ensure that vehicle's maintenance is up to date, the equipment is clean, and that they arrive on time to be ready for their next scheduled appearance. Events are set up by the Kraft Foods marketing department about six weeks in advance. Hotdoggers are responsible for procuring all local media coverage. As a result, they become skilled at the fine art of pitching story ideas to local TV, radio, and newspaper reporters.
The Oscar Mayer Web site suggests that a successful Hotdogger candidate will have "a big smile, great people skills, a colossal sense of humor, and a college degree," but Nichole points out that there is a more fundamental attribute found in every Hotdogger: a genuine sense of caring. They need to have a willingness and desire to make a personal and memorable connection with every single person they meet every single day they're on the road, she says. It's a tall order, but after being lucky enough to spend an afternoon with Christopher and Nichole, we can guarantee they both deliver on all counts. We salute these two seasoned roadtrippers, and we don't even mind that we're still humming that silly little tune.
Mark Sedenquist & Megan Edwards