The Phoenix One Journals Stories from the dawn of RoadTrip America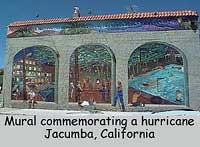 As we were leaving Jacumba, California, we paused at this remarkable mural. Yes, it's all painted on. There are no real humans in the photo, and the wall is flat from the edge of the tiles on down. It recalls the day a hurricane blasted the town, an occurrence rare in California deserts. As we stepped closer, we noticed a row of names across the bottom. "Hey, look!" said Mark. "That's my cousin!" Sure enough, Dale Sedenquist, a cartoonist in San Diego, California, was a member of the talented team that created this amazing work.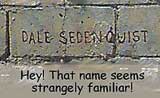 This excellent example of RoadTrip serendipity, one of the greatest delights of travel, capped off a week of exploration in the mountains east of San Diego.
We started with a visit to Fairway Ford to get an electrical problem on the Phoenix fixed, and headed south on Interstate 5. A sidewall blowout slowed us down a bit -- there's nothing quite like changing a tire on the side of a freeway -- but we made it to De Anza Springs Campground in time to relax in the hot tub and get some star-gazing in. The next day we visited Jacumba Springs Spa & Resort, where owner Felix Bachmeier gave us a tour and filled us in on a little history. Jacumba was the destination of the rich and famous in its heyday, when a glamorous resort offered holidays and rest cures. Felix also provided us with a new GIZMO! See if you can guess what it is!
A highlight of our week was a visit with Don and Grace Helen Weaver , who have lived in Jacumba for many years. In addition to being a successful miner and prospector, Don is a member of the Delaware tribe, where he is a leader known as Buffalo Shadow.
Never willing to miss a chance to eat at one of our favorite restaurants, we were delighted to find ourselve in the vicinity of the Temecula Pizza Company at dinnertime! Sandra Egan and Felix R. Lopez made sure our dinner was as delectable as always, with pesto to die for.
We went looking for ostriches -- we know they're around somewhere! -- but we never could find one. We will continue our quest for big birds and keep you posted.