The Phoenix One Journals Stories from the dawn of RoadTrip America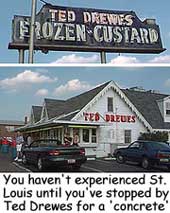 The Phoenix One was relatively stationary last week as she took a rest cure in St. Charles, Missouri, and received some routine maintenance. Sundermeier RV Park proved to be a wonderful place to pause on the banks of the Missouri River.
Features this week included a drive through Utah's Zion National Park and a look at a sign that's made Kettle Falls, Washington, famous. Vivian's Vineyards in St. Charles, Missouri, provided us with an evening to remember, and we discovered a GIZMO guaranteed to stump all but a very elite fraternity. A highlight of the week was a visit with Logan & Pat Doyle, a pair of accomplished aviators who perfectly exemplify the Spirit of St. Louis.
Marvin is reminding me to mention Max, a beautiful chow from Denver who is the newest member of the Fellowship of the Bone.
John Pertzborn of KSDK Channel 5 in St. Louis told us we shouldn't miss having a 'concrete' at Ted Drewes, so we headed to the original location on historic Route 66 and found this classic 'Mother Road' rest stop. A 'concrete' turned out to be a cross between an ice cream cone and a milk shake, but nobody seemed to know how it got its name. We did find out that Ted Drewes sells Christmas trees in December, however.
The Phoenix One is ready to roll again! Spencer Glass made a house call to replace a cracked windshield, and Victor Shade Co. repaired a window blind. I did a few other odd jobs myself, like installing a hook on the head door to keep it from flying open at every turn. Unfortunately, our refrigerator still has the ugly habit of turning itself off just when the temperature starts to soar. Maybe we'll find an icebox wizard in Chicago!