Restaurants of the Road
More Eateries

Vivian's Vineyards
St. Charles, Missouri
We went to Vivian's Vineyards for two simple reasons. The first was that we could walk there, and the second was that Bill Strong, owner of Sundermeier's RV Park, said that nobody had ever come back unhappy.
Now that we've been to this remarkable eatery, we'll go back for a third simple reason. It's a great place! It occupies a turn-of-the-century house, and has tables outside in the summer. The bar and wine cellar are upstairs in what were originally the bedrooms, and downstairs are the dining rooms and kitchen. We could have spent the whole evening marveling at the decor, which features Karyn Swinford's photography and Bob Swinford's frog collection. The Swinfords are the founders and owners of Vivian's, "and it's a family operation," says Bob. Their son Dan is also an owner.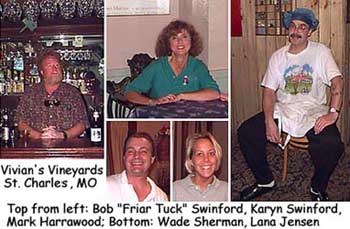 It was a balmy night, and we decided to sit outside. The menu alone made our trip worthwhile. It has an index at the beginning which tells you that page two is titled "How To Conduct Yourself at a Class (Third) Restaurant." Along with instructions for eating soup properly (with a spoon, not your fingers) is a section called "Chair Etiquette." It reads: "Many of our chairs were donated and patrons desire to sit in their chair while dining. Please do not be offended if asked to give up your chair in the middle of a meal. We'll try to provide you with a suitable replacement." Fortunately, we were able to keep the same seats all evening.
Lana Jensen, our wait person for the evening, asked us if we wanted to try the second best Margaritas in the world. The first, it turns out, are made at a bar in Yuma, Arizona. The owner gave Bob the recipe except for one ingredient that he wouldn't reveal. They tasted just fine without it.
Vivian's Vineyards values its "regulars" to the point that it provides them with laminated ID cards which give them the benefit of numerous specials and discounts that are announced every month in the calendar and newsletter that Vivian's sends to a thousand dedicated fans. Wade Sherman, the general manager, told us we could be "regulars," too, and they would keep our card at the restaurant for us because of our mobile status.
Oh, and the food is terrific. Chef Mark Harrawood sees to that. The dishes that emerge from his small kitchen have the variety and artistry of a world-class dining establishment. We had a hard time making up our minds, but I finally decided on the ribs, and Mark had a filet. We also tried "Grandma's Beer Cheese Soup," which had a rich smoky flavor and was gone far too soon. One meal is not enough to test the scope of Vivin's menu, however. We'll just have to go back. After all, we're "regulars" now.
Vivian's Vineyards
1409 North Second St.
Saint Charles, MO 63301
(636) 940-8444
8/96