The Phoenix One Journals Stories from the dawn of RoadTrip America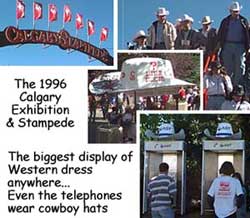 We made it to Calgary just in time for the fireworks that announced the opening of the 1996 Exhibition & Stampede. Since we started our week way back in another world known as the Olympic Peninsula, Washington, we find being here all the more amazing. Suddenly we feel undressed without a cowboy hat, unshod without cowboy boots, and not enthusiastic enough if we don't yell "Yahoo!" every hour or so.
Back on Monday, however, we visited Bandy's Troll Haven near Gardiner Beach, Washington. No cowboy hats there, but a plentiful supply of fanciful ogres and a remarkable castle.
On Tuesday, we visited Dan Dansenburg of Duninger Corporation, the manufacturer of the amazing Ark Personal Shelter, a jacket that transforms into a sleeping bag and tent. While in Seattle, we also enjoyed visits with Juli Saeger & John Russell, Charlie, Barb, Katie & Mackenzie Brister, and the Sedenquist Family.
Thursday, we visited the Braggs and the Dansenburgs, who pooled resources a decade ago to build a dream house big enough for two families in Bellevue, Washington.
Friday was GIZMO day, and we saved one we came across back on the Olympic Peninsula. We hope we fool you at least once!
On Saturday, we discovered a multiplicity of delights at The Herbfarm in Fall City, Washington.
Then we drove like mad to get to Canada, and here we are, ready to enjoy events like chuck wagon races and lumberjack contests. Join us this week for pictures and stories from "The Greatest Outdoor Show on Earth!"