Bandy's Troll Haven
GARDINER BEACH , WASHINGTON—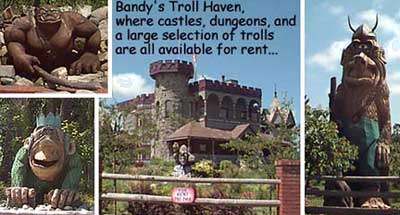 We met Cecil Quackenbush in a parking lot in Sequim, Washington. "If you're looking for something really amazing," he said, "You ought to go see the trolls at Gardiner Beach. The guy who invented the airplane door hinge built hundreds of them, and you won't see anything like them anywhere else." This was sounding like just our kind of place, and with Cecil's detailed directions in hand, we headed for the northeast corner of the Olympic Peninsula.
First we saw some carved fence posts. "I think those are trolls," said Mark. "But they could be totem poles." Then we turned a corner and there was no room for doubt. An fifteen-foot cyclops was giving us the eye, and nearby a barn enjoyed the support of eight troll caryatids.
"Who's the imaginative force behind all this?" we asked Mike West, manager of Bandy's Troll Haven. "Well, he likes to stay in the background," he said, "But all the houses are for rent. The Gatekeeper's House-- that's the castle over there-- has its own dungeon and goes for US$2500 a weekend."
If you're ever in the mood for a vacation with an ogre theme, remember Bandy's Troll Haven, where large but beneficent monsters will guarantee you have an unforgettable time.
Bandy's Troll Haven
941 Gardiner Beach Road
Sequim, WA 98382
Telephone: (360) 797-7168

6/96