The Phoenix One Journals Stories from the dawn of RoadTrip America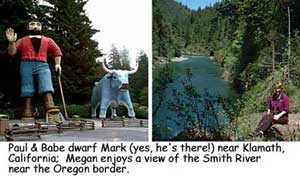 Last week we visited two timber-related operations in northern California. First we stopped at the company town of Scotia, where the Pacific Lumber Company operates the biggest redwood mill in the world. The next day, we stopped to see Joe and Zachary Alexander, whom we'd met at the Kinetic Sculpture Race, at Pacific Box Compan in Eureka. Pacific Box is a lumber resawing and recycling company.
Heading north on the coast highway, we came to the fishing hamlet of Trinidad, where we enjoyed a lunch with a view at the Seascape Restaurant and a visit to the enchanted forest of Larry Goldberg & Kathleen DiCiolla. Larry is owner of Northcoast Internet, the leading provider of Internet services in Humboldt County.
Eureka! We found a challenging GIZMO there! It's commercially available, but we'd never seen one before. See if you have!
Continuing our northward trajectory, we traveled through the redwoods to the Oregon border. In Corvallis, we enjoyed a delightful visit with John, Rosemary, Clare & Max Magee, and a memorable dinner at Bombs Away Cafe. Tomorrow, we'll visit the Willow Lake Waste Water Treatment Plant in Salem, Oregon, where John is a manager. Join us as we find out how Oregon stays green and clean!