Restaurants of the Road
More Eateries

Bombs Away Cafe

Corvallis, Oregon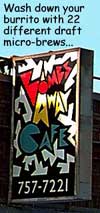 We will no longer be surprised when asking around in Corvallis, Oregon, for a restaurant suggestion. People tend to shout, "Bombs Away!" From now on, we'll be shouting it, too. "Bombs Away" is not a warning. It's a great place to eat. We weren't sure what to expect in the menu department, but Bombs Away's turns out to have a Southwestern flavor. One of the best concoctions we sampled was a "wet" burrito, and the chicken tamales were worthy of a scream, too.
But food is only part of the draw at Bombs Away. They have, and we're not making this up, 22 micro-brews on tap (plus a bunch more in bottles), 17 kinds of Tequila, and, to top off your evening, 13 labels of single malt whisky. No, we did not try them all. We had to be happy with a Mad River Jamaica Red Ale from northern California and a Rogue Mogul Madness from nearer by. We'll have to go back to try the Oregon Trail Nutbrown Ale and the other 19.
Go for the food. Consider the rest a remarkable surprise. And if anyone ever asks you where to eat in Corvallis, you now know what to shout. Bombs Away!
Bombs Away Cafe
2527 NW Monroe
Corvallis, OR 97330
Telephone: (541) 757-7221
6/96