"Yeah, but it's a dry landmark!" Stops along Arizona Highways
by Chris Epting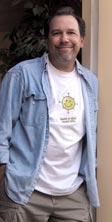 Chris Epting is an accomplished roadtripper, cultural historian, and the author of six books including James Dean Died Here, Marilyn Monroe Dyed Here, and Roadside Baseball. He is a regular contributor to a variety of travel publications and the spokesperson and co-creator for the Hampton Inn's "Hidden Landmarks" program. Originally from New York, Chris now lives in Huntington Beach, California, with his wife Jean and their two children.
I am writing this from room 326 of the Hampton Inn on North Scottsdale Road in Tempe, Arizona. What brings me to Tempe is baseball's spring training season (our favorite annual family getaway) and a few book signings for Roadside Baseball.
I am also here writing about something I worked on, the brand new, Web-based, free road trip planning tool sponsored by the Hampton Inn hotel chain. "Hidden Landmarks" is an interactive pop culture database that allows users to easily navigate specific topics and regions, explore themed "Road Trips" and lots more. While a number of the locations in the database can also be found in my books James Dean Died Here, Roadside Baseball and the soon-to-be-released Marilyn Monroe Dyed Here, there are hundreds of new ones from baseball to movies to offbeat Americana. For the first time ever, you can access the full realm of American Pop Culture from your computer.
Here are a few interesting places I have visited during my travels in the "Grand Canyon State:"


WARREN BALLPARK
(On Ruppe Avenue between Bisbee Road and Arizona Street in Bisbee, about 10 miles north of the US-Mexico border in Southeast Arizona) (Map)
Many baseball fans today love to take ballpark tours, visiting as many as they can when they hit the road. But beyond the big, shiny major league parks are many little gems like this. Warren Ballpark is actually the first professional ballpark in Arizona, and many great teams have played here over the years (including the New York Giants in 1913). Opening Day was June 27, 1909, and the locals got to see the Bisbee team defeat El Paso, 8-3. In 1994, the City of Bisbee placed a marker here to underscore the historical significance of the place. Today, the field is run by Bisbee High School, and it's where the school teams play. To arrange a visit, you can contact the school directly at 520-432-5714.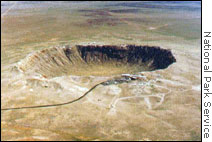 THE ARIZONA METEOR CRATER
(Off Interstate 40 at exit 233, 35 miles east of Flagstaff & 20 miles west of Winslow, Arizona) (Map)

This was not the place to be about 50,000 years ago, when a massive
iron-nickel meteorite, traveling through space at 40,000 miles per hour, smashed into the rocky plain here in Northern Arizona. Today however, it's a great place to be, because you can see just what an explosive force greater than 20 million tons of TNT can do to a landscape. The crater is 550 feet deep, 2.4 miles in circumference, and, incredibly, twenty football games could be played at the same time on its floor. And it would be quite the "Super" bowl, because more than two million spectators could watch the games from the rim of the crater. Though you can't down into it, it's still a marvel to behold. Near the site you'll find a visitor center and museum.
THE OATMAN HOTEL
(181 Main Street, Oatman, Arizona; Route 66 between Needles, California, and Kingman, Arizona) (Map)
This classic Route 66 inn was built in 1902, and is probably most notable for being the place where Clark Gable and Carole Lombard spent their honeymoon on March 18, 1939. The legendary Hollywood couple had been married earlier that day in Kingman, Arizona, and on the way back west decided to stop here and spend the night. Today, the Oatman has 10 rooms, available for just $35 per night. All except for the famous honeymoon suite, which goes for about $55.
THE THING? (2631 N Johnson Rd; take Exit 322 south of I-10 between Benson and Willcox, Arizona) (Map)

Is it animal, vegetable, mineral... or none of the above? For years the cryptic, colorful billboards have lured folks to this classic tourist stop along the dusty road. So just what is The Thing? If I told you I'd have to—well, let's just you have to see for yourself and go from there. But remember, once you discover the secret, keep it under your hat!
Those are but a few of the weird, wonderful sites out in the Arizona desert. To discover more, check out Hampton Inn's new "Hidden Landmarks." Also, I'm in the midst of a new pop culture road trip book and if you have any suggestions, drop me a line.
Chris Epting
March 21, 2004