James Dean Died Here: The Locations of America's Pop Culture Landmarks, by Chris Epting
If you could
, would you "run the bases" at the baseball diamond made famous in "Field of Dreams?" Would you step on the spot where Columbus landed in the new world, or drive to the remote section of California highway where James Dean's Porsche Spyder 550 crashed in 1955? Actually, the challenge isn't wanting to. It's knowing where to go. Thanks to Chris Epting, finding the location of significant cultural events is not a problem any longer. In James Dean Died Here: The Locations of America's Pop Culture Landmarks, he has created a phenomenal road trip resource that provides pithy commentary and useful directions to hundreds of spots where Something Memorable took place.
Epting has grouped more than six hundred landmarks into eight chapters including Americana, History & Tragedy, Crime, Murder and Assassination, Celebrity Deaths, Movie, T V and Music Legends, and the World of Sports. Because the landmarks described are listed alphabetically, a cover-to-cover reading of the book is like taking a ride in time machine with the time-stamp set to "random." From 1955 in Montgomery, Alabama, where Rosa Parks boarded the bus and refused to sit in the back, you'll jump to a modern day visit to the Peshtigo, Wisconsin, museum that profiles the 1871 wildfire that killed 800 people. From there, it's a quick trip back to the arrival of the pilgrims at Provincetown, Massachusetts (NOT Plymouth Rock) in 1620.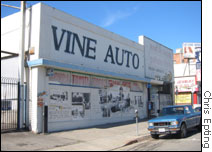 Hollywood, CA: James Dean picked up his new Porsche from Competition Motors shortly before beginning his fateful drive to Salinas. The front of the shop is covered with images and text related to his final day.
Reading the book, I was struck most by Epting's vivid descriptions of the places. They evoked a range of bittersweet and pleasant memories of the times that produced these pop culture icons. I was also impressed by the diligence required to find and record the exact physical location of the events he documents. Maybe we're all better off not knowing that in March, 1958, a B-47 airplane accidentally dropped a nuclear bomb near Mars Bluff, South Carolina, but I was fascinated by Epting's account of the aftermath of the scary incident. He also hiked three miles from the closest road to reach the site of Patsy Cline's airplane crash in Tennessee, and he found the exact airplane hanger in Van Nuys, California, where Humphrey Bogart said, "Here's looking at you kid" to Ingrid Bergman during the filming of "Casablanca."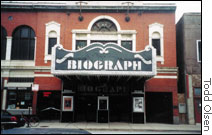 Chicago, IL: "Public Enemy Number One" John Dillinger was shot by the FBI in front of this movie theatre in July, 1934
The Lone Ranger is long gone from network television, but thanks to James Dean Died Here, you can still visit the spot where his horse Silver reared up in the opening sequences on the Iverson Ranch in Chatsworth, California. Maybe "Animal House" is closer to your heart. Epting has identified all of the key locations from that movie on the University of Oregon campus in Eugene. For that matter, he also found Archie Bunker's "All in the Family" house in Queens, New York, the spooky hotel where Jack Nickelson terrorized his family in "The Shining," and the subway grating where Marilyn Monroe's white dress billowed up in that classic photo. Perhaps even more amazing is that Epting has identified and profiled places I always assumed were fictional, like the Eagles' "Hotel California," and the apartment hotel Joni Mitchell was singing about in the lyrics, "they paved paradise and put up a parking lot."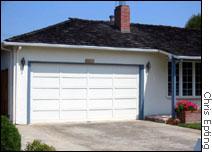 Los Altos, CA: In 1977, Steve Jobs and Steve Wozniak created the first personal computer in Job's very ordinary suburban garage
History is not the past, it's a spin. Historians interpret events, transforming them as each commentator filters the facts. With Chris Epting's book, readers can reduce the distance between events of cultural significance, if not by time, at least by space. Keep this book on your dashboard, and you'll never miss a spot where something interesting happened again.
Mark
1/04