Roadside Baseball: The Locations of America's Baseball Landmarks
, by Chris Epting
In this new edition of Roadside Baseball, Chris Epting's coast-to-coast compendium of places of significance to baseball lovers, he has packed in even more fascinating facts about the history of America's national pastime. Illustrated with historical and contemporary photographs, the result is a tapestry guaranteed to captivate and entertain baseball fans of all ages.
The book is organized into sections by geographical area and then by states, and finally into the places of interest grouped by city. Each site gets a descriptive paragraph to put it into perspective. You'll discover locations of long-forgotten ballparks, graves where many of baseball's luminaries are buried, and other places important to the history of baseball in Canada and the United States, including Alaska and Hawaii. For example, if you're ever in Deadwood, South Dakota, you'll able to find the room in the Historic Franklin Hotel where Babe Ruth once stayed, now decorated with appropriate memorabilia.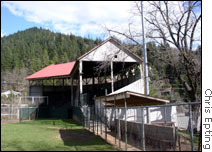 Now home to the Dunsmuir High School Tigers, Babe Ruth once played here.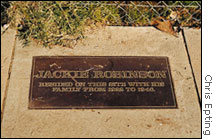 "Jackie Robinson resided here with his family from 1922 to 1946"
By assembling an amazing lineup of historical highlights anchored in the locations where they took place, Epting has created a mosaic history of baseball. I now know that the first World Series took place in 1903 in Boston, Massachusetts, where to find the site where Lee Richmond pitched the first perfect game in 1880, and details about the birthplace of the Little League in Williamsport, Pennsylvania. Reading about all these baseball milestones has enriched my appreciation for the game and its colorful history. Knowing where all the events took place means that when I travel, I'll now be more aware of the many places where baseball history was made.
Another appealing feature of Roadside Baseball is Epting's enthusiasm for the game, which shines through in his descriptions of plaques and monuments like the statue that memorializes Ty Cobb's famous base slide and the birthplace of nineteenth-century baseball pioneer Albert Spalding. Epting's diligence in seeking out obscure but important sites is evident in his description of the plaque in front of a vacant lot in Pasadena, California. It marks the location of a long-gone house where Jackie Robinson once lived. Without Epting's guidance, this site would be nearly impossible to find.
Like Epting's other books, James Dean Died Here, Marilyn Monroe Dyed Here, Elvis Presley Passed Here, Led Zeppelin Crashed Here, and The Ruby Slippers, Madonna's Bra, and Einstein's Brain, Roadside Baseball is fun to read whether you're sitting at home or using the book as a guide while you travel. Even the most rabid baseball fan will learn something new about the game, and all readers will be left with a greater appreciation for the remarkable role baseball has played in America's cultural history.

Michael Dickman
5/22/09