Marilyn Monroe Dyed Here: More Locations of America's Pop Culture Landmarks
, by Chris Epting
Chris Epting has done it again! I still enjoy "random paging" James Dean Died Here, his first compendium of American pop culture events and their locations, but now my favorite pick-me-up has serious new competition. Marilyn Monroe Dyed Here (you've got to love that title) is the second volume in the series, and it's every bit as fascinating as the first. I have to say this surprised me, because Epting packed so much into the first book, I thought this second collection might be a bit thin. But no! Not only does pop culture keep on getting created on a daily basis, there were scads of happenings from the past I'd never heard of before, as well as lots I'd forgotten about. Remember the woman who sued McDonald's for scalding herself when she spilled hot coffee in her lap? Epting reveals where and when it happened along with the outcome of all the ensuing litigation. But all is not recent history. From Christopher Columbus and Johnny Appleseed to Michael Jackson and Elizabeth Smart, Marilyn Monroe Dyed Here spans American history. I just wish my high school history text had been half as compelling a read.
Eight chapters are organized around topics including "Americana: The Weird and the Wonderful," which highlights locations like the place where the first handheld cellular telephone call was made and where Albert Einstein was staying when he stuck his tongue out for a cameraman, resulting in one of the best-known photographs of him. This is also the chapter that explains the title of the book. Epting located the beauty salon where Norma Jean Baker went from brunette to blonde, an important step on her path to becoming Marilyn Monroe.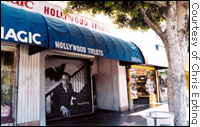 Marilyn Monroe Dyed Here: The Hollywood site of Frank & Joseph's Salon is now occupied by a toy store.
Other chapters focus on history and tragedy, crime, murder, celebrity events, movies, television, books, and music. Even though I have never made a point of making pilgrimages to landmarks, Epting's excellent descriptions and precise information gradually encouraged me to entertain the idea. By the time I reached the entry about the bar in New York City where the author O. Henry used to hang out, I was seduced. Next time I'm in Manhattan, I will definitely seek out Pete's Tavern and find the booth where Henry wrote "The Gift of the Magi." And now that I know how easy it would be to drive by the house in Los Angeles where Dorothy Parker used to live, I just may have to go there, too.
Of course, I will never visit most of the spots of fame and infamy Epting has sleuthed out and described. I'm not even sure I like the idea of visiting all the places the D.C. Snipers snuffed out lives or the flight school in Florida where two of the 9/11 terrorists learned how to fly. What I like is knowing their precise locations—that I could go if I chose. Epting's work (and he isn't done yet—he's at work on volume three) brings cultural history out of the ether into three dimensions. The events he highlights may have vanished into the past, but the locations are still with us. Thanks to James Dean Died Here and now Marilyn Monroe Dyed Here, they're as close as your bookshelf. Better yet, keep a copy in your glove compartment. The handy state-by-state index will ensure that you never drive by a place where something significant happened without knowing about it.

Megan
5/30/04