The Phoenix One Journals Stories from the dawn of RoadTrip America
August 23, 1999
From Abilene to Chicago
The Phoenix One just pulled out of Chicago, a city suffering blissfully from a bovine invasion. Yes, there's a cow on every corner, and I even spotted one on a boat, another on a bridge, and a third peering down from a balcony. They're not living, breathing bossies, of course. They're serene fiberglass replicas, each decked out artistically in the name of a sponsor. I particularly liked one that was wearing a pig mask, and another that was studded with jewels. Mark like "Top Cow," a bronzed specimen perched on an impressive pedestal, and another that was dressed like a city construction worker, complete with rubber boots and reflective vest.
But we didn't have a chance to see them all. There were too many, and in addition, we were distracted by another unusual spectacle, the sight of a gutsy Frenchman scaling the Sears Tower in the style of Batman. Yes, that happened as the Phoenix lurked in the shadow of Chicago's tallest 'scraper, and later the same day, the Thunderbirds roared overhead to kick off the city's annual Air and Water Show. Ah, Chicago-- all this, and great pizza, too...
But I'm getting ahead of myself. We were back in Texas when last I wrote, reduced to a crawl in Abilene, where our transmission decided that first and second gears were all it could manage. Since this meant that we couldn't accelerate past thirty miles an hour, we headed east on farm roads instead of the Interstate. Although it hadn't been our choice, I can't deny I enjoyed our enforced mosey through central Texas. We were traveling slowly enough to establish eye contact with cows (the real kind), and wave cheery good mornings to combine operators.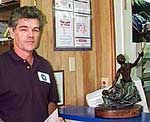 Tom Dunn
At last we arrived in Cisco, a town whose very name fairly drips with Western romance. We drew to a halt at Cowboy Ford, where Tom Dunne, the service manager, assessed our plight and reassured us that we'd come to the right place. "We're busy, but we'll see what we can do," he said, and within half an hour, one of his mechanics had identified the source of our problem. Within two hours, it was fixed.
Within the same two hours, we learned that Tom Dunn, a native of California, is a bronze sculptor by avocation. He sculpts his creations in wax, and a foundry in a nearby town casts them in bronze. Two of his works were on display at Cowboy Ford, intricately sculpted pieces reflecting spiritual themes.
Since we were now able to proceed at speeds fast enough for highways, we hopped back on the Interstate and proceeded toward Fort Worth, where we were scheduled to visit our friends Bob, Rebecca, Ryan and Jessica Lommel. Mark and I had a fabulous time, but Marvin was buffaloed by their little dog Ginger, who doesn't let size interfere with her being in charge.
From Fort Worth, where we visited the national offices of American Mensa, we headed to Dallas. Heading northeast, we cut through a bit of Arkansas, stopping in to see Dale Bush, kaleidoscope maker extraordinaire. From Bentonville (best known as the world headquarters of Wal-Mart) it was only a skip and a jump to Branson, Missouri, where we stayed overnight.
After radio and television interviews in Springfield, Missouri, we visited that retail wonderland, Outdoor World, and headed for St. Louis. We stayed at one of our favorite establishments, Sundermeier RV Park, which is right on the banks of the Missouri in historic St. Charles. St. Charles is also home to one of our favorite restaurants, Vivian's Vineyards. If you're ever in the St. Louis area, don't miss it!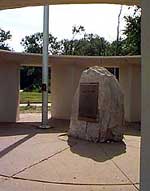 Lewis & Clark Memorial near the confluence of the Missouri
and Mississippi Rivers
While we were in St. Louis, we visited the starting point of Lewis and Clark's historic expedition. A Stonehenge-shaped monument marks the spot where the team set out, at the confluence of the Missouri and Mississippi Rivers. It was a good place to pause and reflect on personal achievement, or, as we discovered when we walked to the riverbank and looked down upon two straw hats and two long poles, a good place to fish. Not wanting to disturb the anglers, we walked lightly back to the Phoenix.
Chicago was our next destination, the city of my birth. I have to say, as we drove in from the south at daybreak, when clouds as dense as mountains were silhouetted against the dawn, as the sun broke over that magnificent metropolis, illuminating that fantastic range of man-made peaks, it took my breath away. I felt as though I had happened upon the quintessential American metropolis, a city with the tireless energy of Manhattan mixed with the bigness of the west. Somehow, Chicago seemed to have it all, and balmy weather-- not to mention the jolly cows, the fearless Frenchman, and the roaring fighter jets-- did its part to make me sorry to leave.
But hey, we're on a book tour, and Pittsburgh beckons. We've stopped in Portage, Indiana, on the south edge of Lake Michigan, where there are sand dunes and white beaches. Tomorrow, we're eastward bound.
Megan
Portage, Indiana
August 23, 1999