The Great Indoors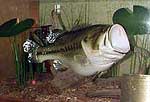 A model of Ethel the Largemouth Bass, "the largest largemouth in captivity"
SPRINGFIELD, MISSOURI—

The phenomenon started 26 years ago, when John L. Morris asked his father if he could set up an eight-foot display in his liquor store. Since then, Bass Pro Shops have, well, grown. It was no eight-foot display we visited the other day when we were stopping over in Springfield, Missouri, for a radio interview. Outdoor World, the imposing successor to John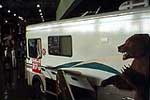 A grizzly stalks a motorhome on sale on Outdoor World's RV sales floor
Morris's humble beginning, encloses 280,000 square feet of-- contrary to what the name suggests-- indoor selling space.
It's big enough to house steams, trees, a huge saltwater aquarium, and a four-story waterfall. Dozens of boats, some big enough to merit "Own Your Own Island!" signs fill one showroom, and another football field displays RVs of all sizes. The fishing rod section offers at least three thousand different models, and the camouflage clothing department is as big as a Wal-Mart. The gun section could outfit the infantry of a Balkan state without depleting its inventory. This place is huge.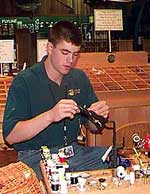 Marc ties lures, from your own hair if you have the hankering
Since I have never been steeped in the lore and culture of fishing, hunting, or even sports, stepping into Outdoor World was like entering a foreign kingdom. I was awed by clothing guaranteed to "cover your stink," mugs shaped like shotgun shells, and the notion of having a fishing lure made out of my own hair. I marveled at videos titled "Way of the Walleye," and books with names like "Caught Me A Big 'Un."
Outdoor World is still expanding. Upstairs, at the entrance to the extensive collection of taxidermed animals and old-fashioned hunting and fishing equipment, we pored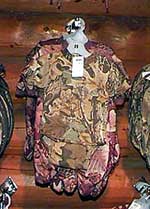 Start 'em young: Baby Camo
over the architectural drawing for the newest marvel. "Wonders of Wildlife" will be opening in 2001, its mission "to preserve national resources and wildlife." This new addition will have another waterfall, a river, two aquariums, a shark display, a colony of live bats, and a "walkway through the woods." Let's hear it for the great indoors.
Megan
8/99
Bass Pro Shops Outdoor World
1935 S. Campbell, Springfield, MO
Online: www.outdoor-world.com