The Phoenix One Journals Stories from the dawn of RoadTrip America
April, 1997
Las Vegas, Nevada
Milepost 82,007
On the road and online... WE'VE MOVED!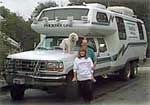 RoadTrip America is constantly migrating, of course, but recently we've moved in two other directions. In January, RoadTrip America online took up residence on a new server. Our new virtual home is sponsored by Evergreen Technologies in Eureka, California. Whenever you call up a file, remember that it's coming to you from Humboldt County, the heart of California's redwood country.
Larry Goldberg, president of Evergreen Technologies, is a trailblazer on the Internet. His company is developing new user-friendly technical help services as well as cutting edge high-speed access and delivery systems. It's a pleasure to be working with Larry, Webmaster Robert Morse, and the talented Evergreen team.
In February, we moved physically, too! While the Phoenix One hibernates in San Jose, California, we're on assignment in the NicoVan, a 34-foot AirStream Cutter covered with colorful graphics offering advice about how to quit smoking.
Sponsored by GlaxoSmithKline and the American Cancer Society, the NicoVan embarked on a twenty-city tour in January. We're the drivers, hosts and official dog for the tour, which began with a bang (literally!) at the San Francisco Chinese New Year's Festival. The NicoVan's route spans the continent and ends in St. Louis in September.
Even though we aren't traveling in the familiar Phoenix, RoadTrip America online continues to bring the stories and sights of life on the road to an audience around the world. The publicity tour we launched last August in Las Vegas took us on a whirlwind tour of the continent's largest cities and introduced us to the exhilarating challenge of driving a 32-foot vehicle in places where motor homes usually fear to tread: downtown Boston, the South Bronx, Times Square...
By the time we wound up in Los Angeles in December, we were seasoned urban adventurers. In addition, RoadTrip America had been featured in twelve newspapers and magazines, including People, Newsday,and the Los Angeles Times. We were interviewed on four syndicated radio shows including WCBS and sixteen television programs. MSNBC and First TV featured RoadTrip America navigating Manhattan, and C|Net aired two segments taped at their studios in San Francisco. C|Net also presented RTA with a "Best of the Web" award, and Marcy Harbut reviewed the site for Earthlink.
As RoadTrip America's readership has grown, so has our list of places to go and sights to see. Our e-mail box is always stuffed with tantalizing suggestions, a constant reminder that we'll never see it all. 82,000 miles is only a good start.
We're still out there, and it's still an adventure, every day. We still have no idea what lies around the next bend, but the great thing is, it might be you! See you on the road.