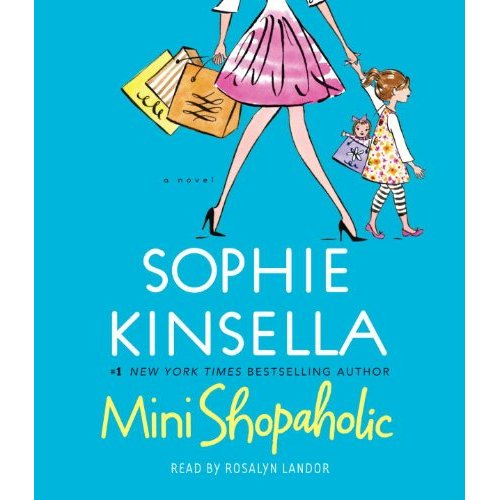 It's no surprise that Becky Bloomwood Brandon's 2 year old daughter Minnie is starting to exhibit signs of being a shopaholic like her mother. With the downturn of the economy, Luke has put Becky on a strict budget and has made her promise not to buy anything for herself. Of course, Becky respects Luke's request, but surely that doesn't mean that she can't buy things for Minnie. When she spots a cocktail dress she loves, she buys it for Minnie, rationalizing that Minnie will probably be her size when she gets older and she'll love the dress, too. Luke is concerned that Minnie is becoming a shopaholic, too, so he forbids Becky to buy for Minnie as well. Devising an ingenious plan to give Minnie a weekly allowance she can use to buy things for herself, Becky extends so much credit to the child for her purchases that it will take decades to repay. Luke is not just concerned about Becky's spending, he's afraid that Minnie is somewhat of a brat, so he hires a TV Super Nanny to evaluate her and prescribe treatment. Becky is adamant that her child will not be put in Boot Camp and stages hilarious subterfuges and diversions to keep that from happening. Even though she is self-centered, extravagant, willful and irresponsible, Becky is a kind and generous person who loves her friends and family. That is why she insists that Luke must get a surprise birthday party. True to her nature she impulsively overextends herself physically and financially, alienating those around her. When plans get out of hand an unlikely fairy godmother comes to her aid, but this could lead to even more trouble for the impractical heroine.
Kinsella's latest addition to the Shopaholic series is laughable and entertaining, but there is a somber acknowledgment of the state of the World's economy. Even the wealthy Luke Brandon is experiencing money problems and deals for each of the houses he and Becky hope to buy fall through, forcing them to move in with Becky's parents. Kinsella addresses the strain this puts on both the older and younger couples. Other characters bemoan the states of their pensions and express fears about future earnings. Leave it to Becky to rise above the doom and gloom of a negative cash flow, though, and create her own comedic chaos. Rosalyn Landor's narration is perfect for this series. As bizarre as Becky's behavior can become on occasion, Landor's carefully measured interpretation keeps her grounded. In this case, her calm delivery inspires confidence in the future and hope for better economic times soon.
Mini Shopaholic is pure entertainment. Becky can be exasperating in her refusal to grow up and accept her role as an adult and a mother, but she is always comical and charming. If Lucy Ricardo had a secret granddaughter who'd been brought up in London, she might have been Becky Bloomwood Brandon. In Mini Shopaholic, Becky has no shortage of "You've got some 'splainin' to do" moments.
Mini Shopaholic by Sophie Kinsella
Read by Rosalyn Landor
Random House Audio, abridged: 6.5 hours on 5 CDs