Frederick Philipse, who lived in the Hudson Valley in the late Seventeenth and early Eighteenth Centuries, amassed land holdings of thousands of acres. The
Philipsburg Manor
in the heart of what is now Tarrytown, is a faithful restoration of the heart of this plantation, featuring not only the country manor, but also a mill and other well preserved and restored structures, appointed with period antiques and faithful reproductions.
Stroll across the stream on the wooden bridge that leads you to the living history center, and suddenly you're three centuries in the past, as you approach the operating grist mill, which you can enter to see the gears turn.
You particularly feel like you've journeyed back in time when you encounter costumed interpreters, including 'slaves', who explain what life was like on the farm in their day. You can even immerse yourself in the era by pitching in with a few farm chores: you can try your hand at threshing wheat, shelling beans, or grooming the oxen that, like the other farm animals here, are authentic for the historical period they represent.
IF YOU GO:
The parking lot is small, but there are usually spaces available. If you drive an RV, you might inquire about using one of the spaces reserved for tour buses. During busy times, be prepared to park on the street. You can also purchase tickets at the visitors center for Kykuit, the Rockefeller estate. No pets are allowed on the grounds.
WHEN TO VISIT:
Philipsburg Manor is open every day except Tuesday from April 1 to October 31. In November and December, it's open only on weekends and the day after Thanksgiving. Every October it's the site of a Halloween festival that pays tribute to the Legend of Sleepy Hollow (which is nearby), popularized by Washington Irving, who lived just down the road. And the headless horseman does make appearances.
JURISDICTION: Historic Hudson Valley
ADDRESS: 381 N. Broadway, Tarrytown, NY 10591
Last Visited: October 2010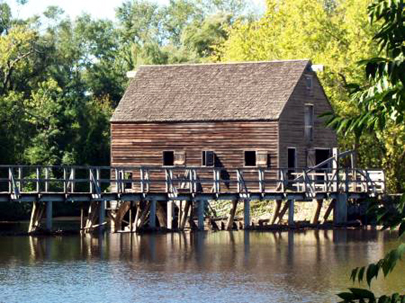 The operating grist mill at Philipsburg Manor
Photo courtesy of Kimberly Goza