Seaside Heights Boardwalk
offers a mile of delights on two piers, Casino Pier and Funtown Pier. You will find all the standard boardwalk fare and a few surprises: There are carousels, Ferris wheel, kiddie rides, go-karts and bumper cars, and arcade on top of arcade on top of arcade - 8 in all -with games of chance and skill where you can win not only stuffed animals but some unusual prizes as well. Or how about a game of mini-golf on the roofs of all of those game centers?
For thrill seekers there are roller coasters including a looping coaster that lets you watch the ocean waves break right under you, bungee swings, or try the Tower of Fear, a 225-ft drop ride. If you are really brave - and you're not full of pizza, waffle cones or fudge - try
The Skyscraper,
which takes you up 162 feet in the air at 70 mph on the end of a revolving pole. Or go make a splash at Jenkinson's Breakwater Beach Water Park across the street.
Grab a bite and a brew at one of the pubs. You can also get away from all the bustle and relax on the beach. Bring a kite to fly if you wish. Bikes, skateboards, body-boards, surf boards, kayaks, jump island (water trampoline), cat cruisers hydrobikes, paddle boats and electric paddle boats, and sailboats are available for rent. Climb aboard the sky ride (like a ski lift) and get the vantage point of the seagulls. You can get a massage, get your palm read and have some old-time souvenir photos taken.
During the summer months there are weekly fireworks and outdoor movies, as well as special events (including an annual clown festival) through October.
Casino Pier
Sherman Ave and Boardwalk, Seaside Heights, NJ 08751
Funtown Pier
Boardwalk at Porter Avenue, Seaside Heights, NJ 08751
Jenkinson's Breakwater Beach Water Park
800 Ocean Terrace, Seaside Heights, NJ 08751
ADDRESS: Boardwalk between Sherman Ave and Porter, Seaside Heights, New Jersey
JURISDICTION: New Jersey Department of Tourism
INFORMATION Verified as of September, 2010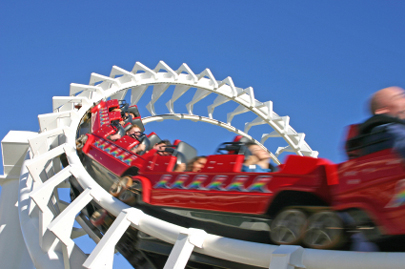 Bird's eye views from rollercoasters
on the Jersey shore
Photo courtesy of iStockPhoto.com / © Brett Mulcahy