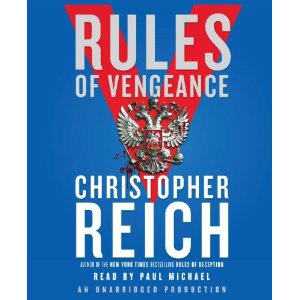 Few people observing Dr. Jonathan Ransom, a physician with Doctors Without Borders, on the London bound jet would believe that the humanitarian caregiver is leading a secret life, exceeded in subterfuge only by his wife Emma's. Emma Ransom is an agent for a U.S. secret intelligence agency called Division and has been in hiding since she betrayed the organization. Although she faked her death in an avalanche in order to disappear without being followed, she has resurfaced, contacted Jonathan, and the two are preparing to meet for a brief encounter in London.
Before they can meet, however, Jonathan is nearly killed during an attack on a passing motorcade. Rushing to the scene to help the injured he notices Emma and sees her slip into the crowd and disappear once more. When he is arrested and accused of being involved in the bombing, he realizes that the only way anyone will know what really happened is if he can find Emma and learn who she works for and what she tried to accomplish. Since the police are not willing to release him, he escapes and tracks Emma through Europe. He, in turn, is pursued by Deputy Chief Inspector Kate Ford of the London police and MI5 Agent Colonel Graves. Any resemblance to the antics of the Keystone Cops is absent in this adrenalin-fueled , suspense-filled hunt to locate and neutralize Emma and other spies, terrorists and anti-terrorists who may be either good guys or bad guys.
Perhaps Jonathan Ransom is too good to be true with his superhuman endurance and unwavering faith in his lawbreaking wife, but he makes a fascinating character to follow in this adventure of intricate and surprising plot twists. He's a kind of Indiana Jones meets Dr. McDreamy- courageously able to survive intense physical combat, but clever, sensitive, ethical and aware of personality shortcomings in himself and others. Paul Michael's narration effectively presents these aspects of his character to the listener in this very satisfying audio interpretation of the novel.
Rules of Vengeance is the perfect title for this book, a truth that will become obvious in the final chapters as the characters, their motives and the many-faceted plot lines converge and diverge like a virtual kaleidoscope.
Not to be missed!
Rules of Vengence
by Christopher Reich
Read by Paul Michael
Random House Audio, unabridged: 14 hours on 11 CDs