117 Miles - Allow 3 to 8 hours
There is Atlanta and then there is Georgia. This route takes the road tripper through the rolling hills, valleys and mountains of North Georgia, while skirting the Chattahoochee National Forest. Visit a gorgeous state park, have a chance to strike it rich, stop by a 'baby hospital' and watch the 'birth' of a famous doll, before visiting an alpine village. Rural and rustic Georgia awaits you.
Here are a few highlights along this route:

Atlanta, Georgia
(Starting point)
Once you have wrapped up the shopping sprees, enjoyed the fine dining, night life and baseball games and visited
Underground Atlanta,
follow the compass north to see what Georgia
really
has to offer.
Amicalola Falls State Park
(mile 72)
Breathtaking views, a gorgeous lodge, great restaurant, RV sites perched on the edge of a mountain, hiking trails, a fishing pond and, oh yes, the falls - for goodness sakes don't forget about the falls when visiting
Amicalola Falls State Park
. The park provides special programs and activities for the entire family and is a gateway to the well known Appalachian Trail.
Dahlonega
(mile 92)
Question: Where did the first U.S. gold rush take place? Answer:
Dahlonega, Georgia
. And Dahlonega is still a popular destination to pan for gold. Once you strike it rich, visit the Gold Museum and the local wineries. If it is too hard to decide which wines are your favorite, bring home a bottle of each. And even if you don't strike it rich, you are bound to have had a great adventure.
Cleveland
(mile 102)
It's always fun to visit those places that manufacture the items we see on the store shelves.
BabyLand Hospital
in
Cleveland
is one of those places. It is the 'hospital' where the world famous Cabbage Patch Kids are 'born.' And like most of this trip, the scenery alone is worth the trip. The mountains are green, the farms are lush and Southern hospitably abounds. Ya'll come!
Helen
(mile 117)
This is a town that represents American ingenuity at its best. Once a struggling community, folks decided to turn their town into a recreation of a Bavarian alpine village, creating one of the most popular destinations in Georgia. Today
Helen
is a spot where visitors discover cobblestone streets, unique gift shops and fun dining spots. And weather permitting, you can go tubing down the Chattahoochee River.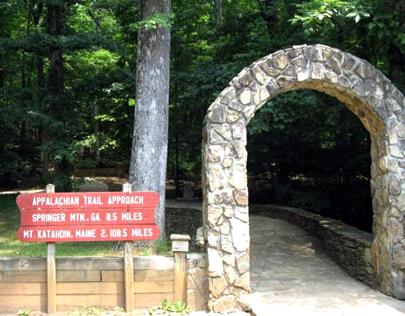 Amicalola Falls offers hikers one of the fanciest trail heads
you're likely to find to the Appalachian Trail.
Photo by Anne Sponholtz