136 Miles - Allow 3-6 hours
Wave good bye to Mickey Mouse for a while, and discover the sights beyond the Magic Kingdom. Leave room in the trunk for the antiques found while shopping in a picturesque Florida town, get a birds eye view of some of Florida's prettiest inland landscape, take a tour of architect Frank Lloyd Wright's work and enjoy a meal at a first-class restaurant before defying gravity on Spook Hill.
Here are a few highlights along this route:
Orlando, Florida
(starting point)
One of the most popular tourist destinations in the world, Orlando is packed with entertainment, but when you are ready to take a break from the crowds, this route makes for a great getaway.
Mount Dora
(mile 28)
Mount Dora
is not only one of the prettiest towns in Florida, it is also a shopper's dream come true, well known for its antiques and other fashionable shops. Even window shopping in Mount Dora is fun. If shopping is not up your alley, try a little fishing from the pier or take a walk along a nature trail. There is something for everyone in Mount Dora.
Clermont
(mile 58)
Clermont is the gateway to Florida's rolling hills and some of the prettiest inland landscape in the state. Before devastating freezes hit the state, orange groves filled those hillsides, and one of Florida's first attractions, the
226 foot Citrus Tower,
provided a breathtaking view of the groves. The view is not what it was, but is still engaging. The state's largest winery,
Lakeridge Winery and Vineyards
, has taste tests and tours on the menu.
Lakeland
(mile 105)
Lakeland has a long baseball history and Henley Ball Park is a major player in that history. Opening in 1925, it holds a spot on the U.S. National Register of Historic Places. For baseball fans and historians alike, it is worth stopping by the field, now home to Florida Southern College's baseball team. Swing by the
Florida Southern College campus
to see a collection of renowned architect Frank Lloyd Wright's work. Tours are available.
Lake Wales
(mile 136)
Lake Wales
has some spots that are just a heck of a lot of fun. Among the favorites are Bok Tower Gardens, Chalet Suzanne Restaurant and Country Inn and Spook Hill, an attraction you don't even have to get out of your car to enjoy. Because of the optical illusion created by the surrounding landscape -- or maybe the ghost of a legendary alligator -- your car will seem to coast uphill!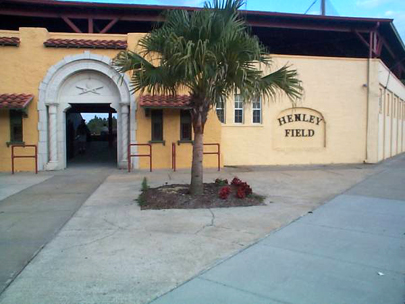 Baseball has been played at Henley Field since the 1920s.
Photo by Anne Sponholtz