15 miles, 8-10 hours
A quick glance at the length of this route - only 15 miles - might look like a typo, but it really could take 8 to 10 hours to see everything listed below. If you're nimble on on your feet, you'll see ancient cliff dwellings, a modern castle, a historic cog-wheel railroad, and a cavern deep underground. All this, and you'll spend less than a couple of bucks for fuel!
Here are just a few of the attractions to look out for along the way:
Colorado Springs, Colorado
(Starting Point)
Colorado Springs is not only the starting point, but it is also the destination for many good sights and activities. This trip won't take you very far outside of city limits, and your fuel usage will be minimal.
Find Hotels and Motels Near Colorado Springs
Garden of the Gods
(mile 6)
Garden of the Gods
is a city park. The land was donated by the family of Charles Elliott Perkins, an early and wealthy resident of Colorado Springs. Perkins had wanted the park to always be free, and his wish has been respected. You can stroll, hike, climb the rock pinnacles and just enjoy the view of Pikes Peak high above you.
Manitou Cliff Dwellings
(mile 9)
The Cliff Dwellings
are what remains of an ancient Anasazi Indian village, probably dating to the eleventh or twelfth Century. Feel free to wander through the structures, and then visit the museum alongside the ruins.
Miramont Castle
(mile 11)
Miramont Castle
is a huge stone structure in the middle of a residential section of Manitou Springs. It has 46 rooms on four floors, with several different architectural styles. Touring this Victorian mansion can take several hours, but consider taking the time for at least a quick look around.
Pikes Peak Cog Railway
(mile 12)
From Miramont Castle to the
Pikes Peak Cog Railway station
is less than a mile. The trip to the 14,110-foot summit on the world's highest cog train is about an hour each way. It's always cold at the top, so dress warmly and take your camera and binoculars. Learn why Katherine Lee Bates was inspired to write "America, The Beautiful" on a trip up this mountain.
Cave of the Winds
(mile 15)
After your trip to the heights of Pikes Peak, you might still have time to visit one more attraction in Manitou Springs: the spectacular
Cave of the Winds.
If you arrive late in the day, have dinner at one of the restaurants in Manitou Springs and then take the Flashlight Tour or Lantern Tour of the caverns. It's a memorable way to wind up a Colorado Springs road trip.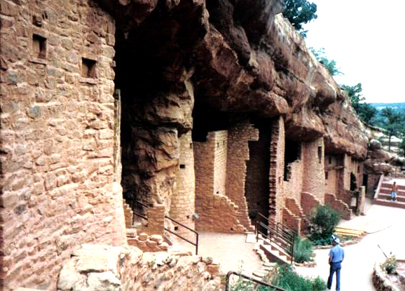 Stunning cliff dwellings found in the Manitou Springs area